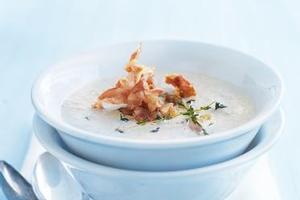 As the days shorten and the crisp autumn air creeps in, we turn to comforting and cosy fare. These deliciously humble soups are ready in just 10 minutes.
Try an Asian-inspired chicken broth, a rustic and robust tomato soup and a bowl of creamy mushroom topped with crispy pancetta. You'll welcome the cooler months after just one spoonful.
Tips and tricks
* Serve your soups with more-ish sides such as garlic bread, crispy parmesan pita breads or freshly baked savoury scones.
* You can make the tomato soup in advance and freeze for up to 3 months.
* Both the mushroom soup and chicken soup can be made the day before and reheated the next day. But remember, you can only reheat the soup once.
* You can use up stale bread to make croutons. Simply cut bread into cubes, place on a baking tray, drizzle with olive oil and bake until golden and crisp. You can add dried or fresh herbs such as oregano, thyme and rosemary to the bread.