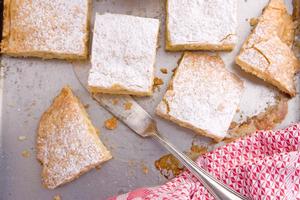 Blimey, the Aussies are at us again. First they claim the pavlova and now Masterchef Australia's Matt Preston has claimed the good old baked slice is proudly Australian. What the ... ?!
I do agree with him, however, that this simple, tasty area of baking is often overlooked in international cookbooks. As Kiwi kids, we would have all tasted delicious slices - or squares, as Americans call them. Slices are more sophisticated than a biscuit but less ostentatious than a cake.
It seems this sweet treat has been kicking around since the 1950s and 60s, encouraged by the trendy ingredient of the time - condensed milk. Slices were easy to make, bake and cut up; ready to be transported to afternoon tea or any other social gatherings. And I don't know about you, but my grandmother's slices never lasted very long sealed in their metal biscuit tins. Her caramel slices and Louise cake were irresistible to us kids. These days, along with cupcakes and baking in general, the slice is making a comeback.
So here are some tips (certainly not needed by the owner of a roadside stall I recently came across near Pakiri Beach, north of Auckland. It's home to some of the best melt-in-the-mouth ginger crunch I have ever tasted).
First, if the slice is to have a base, it must be just sturdy enough to carry the filling without having too much of its own flavour profile, to ensure it doesn't overpower everything else.
Another great tip comes from the excellent Wee Treats blog in which Auckland home baker Tammy recommends her Awesome Tan Slice (pictured left), saying it's best to slightly undercook the filling of golden syrup and condensed milk to give it a delectable gooey centre. The crumbly textured surface, of Tammy's slice, made with leftover base mixture, is appealing. The recipe can be found at www.weetreatsbytammy.blogspot.com.
Other great ways to add a bit of crunch to a slice is to smash chocolate crackles and drop them into a cheesecake filling, set over a ginger crunch base, with finely diced crystallised ginger bound with agave syrup added in. Dust the finished product with ground almond. High-end restaurants are also embracing the slice revival by reworking classic squares into petits fours - with the added thrill of self-saucing centres. Fillings are either set with gelatine or a fruit curd, injected with a coulis or syrup via a syringe for a surprise explosion in the mouth.
The only tricky part to all of this can be navigating all the different size pans and trays to find the right one to bake your slice in.
But you can improvise by cutting cardboard sides wrapped in tin foil, and secured with tape so you can build the filling up off the base in shallow trays.
Learn to cook
Detours food writer Paul Jobin will host a cooking class at CocoZen Lodge and Spa at Takou Bay, Northland on March 24.
The theme is Mediterranean Memoirs and the cost is $70. We visit Greece, Israel and France for inspiration. Call 09 407 638 or email: cocozen@xtra.co.nz