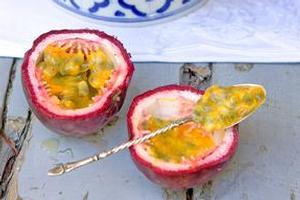 Makes a 28cm x 18cm tray
For the coconut base:
195g butter, softened
60g icing sugar, sifted
210g flour, sifted on to paper
40g threaded coconut, mixed with flour on paper!!
For the lemon curd filling:
120ml lemon juice
40ml passionfruit pulp, about 8
2 x 150g portions of caster sugar
200g butter, diced
6 eggs
2 gelatine leaves, soaked in cold water till limp
Pre-heat oven to 165C. Grease and line the baking tray with non-stick paper.
In a mixing bowl, cream the butter and sugar together until light then fold in the flour and coconut. Flatten evenly into the tray and bake until light golden for 20 minutes and cool.
To make the filling, combine lemon juice, passionfruit, first amount of sugar and butter in a saucepan and bring to the boil. Meanwhile, in a heated mixing bowl, beat the eggs with the second amount of sugar until light and creamy. Whisk boiled juice into eggs, return to a clean saucepan and stir over a medium heat until mixture thickens.
Squeeze out the water from the gelatine, add to the egg mixture and stir to dissolve. Pour over the base and set in the refrigerator for two hours. Cut into 3cm squares.