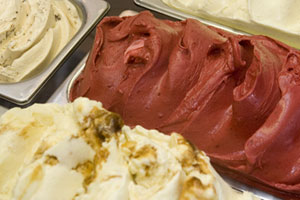 The weather is insufferably humid and ice blocks melt, dripping down your arm in the short distance it can take to walk from the dairy to the beach, so it seems we have plenty of time left to eat frozen goodies.
Home-made icecreams are pretty easy to whip up and an icecream maker, even though it makes the job easier, is not essential.
Today we have three different types of frozen delights - a sorbet, a frozen yoghurt and a semifreddo.
Sorbets are a simple way of using up summer melons - watermelon is good but the intoxicating scent of ripe honeydew and rockmelon win me over. By freezing the fruit in a simple sugar syrup you retain the pure flavour of the fruit in each refreshing mouthful.
Pick up some glorious plums, so sweet and inexpensive now, poach gently then fold through the yoghurt. The result is sweet and creamy with just enough tartness from the plums to make your mouth pucker.
Sheep's milk yoghurt can be replaced with plain unsweetened or Greek but do check it out - its sharpness complements the plums well.
Semifreddo, meaning part-frozen, is a rich soft icecream that can be made very successfully with a good pair of electric beaters. A multitude of flavours can be added; some of my favourites have been used today.
Pineapples are very sweet at the moment and heavenly with coconut and palm sugar. I have added sago at the end for an interesting texture and a nod to the gorgeous Malaysian dessert gula melaka.
Chef's tip
If not using an icecream maker, you need to freeze in a shallow container, freeze until firm but not hard, then blend to break up the ice crystals before returning to the freezer. This process needs to be repeated twice for a creamy result. Adding a little alcohol - vodka is neutral - helps to prevent the mixture freezing too hard.