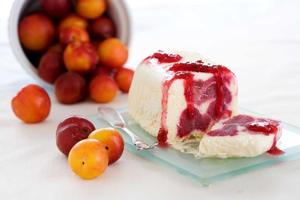 Makes 1.5 litres
Poached plums
12 plums, halved with stones removed
1 cup water
1 cup white wine
3/4 cup sugar
1 cinnamon stick
1 vanilla pod, split
Frozen yoghurt
350ml [1 1/3 cup] yoghurt
1 cup icing sugar
1 Tbs lemon juice
2 Tbs vodka
1/2 cup cream
1 To poach the plums: simmer all the ingredients except the plums, stirring to dissolve the sugar. Scrape the seeds from the vanilla pod and add to the saucepan along with the pod. Cook for 5 minutes then add the plums.
2 Lower the heat to a gentle simmer and poach for 10 minutes. Allow to cool in the liquid.
3 To make the frozen yoghurt: stir the yoghurt, sugar, lemon together with 2 spoonfuls of the cold poached plums. Stir in the vodka and the cream then either pour into an ice-cream machine of follow step 3 from the first recipe. Serve with extra plums.