Rating: * * *
Address: 24a Spring St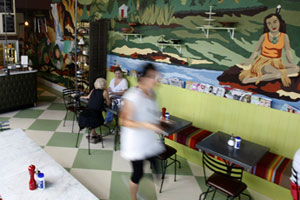 We came here because I'd read about the unusual design and my curiosity was piqued.
Parking was no problem.
We walked in and immediately thought that the design of the place deserved an award (turns out it has won a few) - a brightly painted mural on one wall, an antler chandelier, eye-catching colours and wall hangings and loads of vintage Kiwi cutlery and crockery. Design eye candy.
The menu was hard to choose from because I'd spied someone having pikelets with lemon curd, creme fraiche and berries which looked gorgeous, but was being pulled towards the huevos rancheros (Mexican-style fried egg on a tortilla).
We ordered the cassoulet with cannellini beans, chorizo, fried egg and ciabatta ($16.50), which was probably the stand-out dish, and the huevos rancheros ($14) - the sauce was tasty but the portion meagre and the tortilla was tough and chewy. Emma and Steve both opted for more traditional fare and were disappointed.
At $19 you'd expect a proper big breakfast but Steve's order of poached eggs on toast with sides of bacon and haloumi was deemed overpriced. And Emma's scrambled eggs were sloppy.
The service was confusing - lovely, friendly and trying hard to please, but one of our mains didn't turn up, and some of our plates were cleared while others were mid-mouthful.
The coffee was pretty darned good. We recommend if you come here you sit back and enjoy the unaffected atmosphere and perhaps order what you can see looks good at other tables.
Overall we thought that although the food and service were hit-and-miss, we'd definitely come back to try other items and absorb the Kiwiana again.