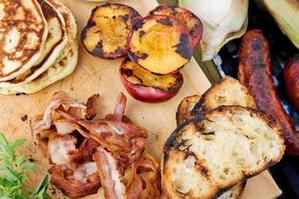 There is plenty of warm weather left, so make the most of the relaxed summer weekend vibe by cranking up the barbie and inviting a few friends over to enjoy a delicious brunch.
Stone fruit has been at its peak for a while and whether you use nectarines, peaches or apricots, they are all plentiful, scrumptious grilled and the flavours go so well with a dollop of whipped coconut cream.
It is also an ideal time to use the abundant avocado. Mash it into a basic pikelet recipe, then cook on the hotplate and pair with barbecued corn, crispy bacon, creme fraiche and a basil vinaigrette bursting with flavour.
While all this is going on and the neighbours are beginning to inhale over the fence, put a heavy-based frypan on and let ruby ripe tomatoes simmer away with sweet currants and a splash of balsamic, which will reduce to a thick sauce to spoon over thick slabs of grilled toast paired with spicy chorizo.
All that is needed is a pot of coffee brewing away, also on the barbie - and to juice a few oranges. Backyard, balcony or bach, this is a perfect no-fuss brunch to share.
Chef's tip
Get the barbecue nice and hot before putting any food on; it will sear quickly, giving good colour instead of stewing. Basil can substituted for coriander or parsley if in short supply - or use a fragrant combination of all three.