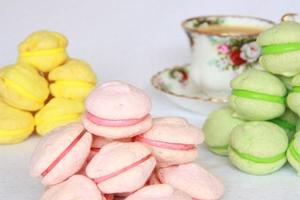 I have been saving masses of egg whites in the freezer which were left over from making ice cream and my 11-year-old daughter Cassandra was champing at the bit to make the coloured macaroons she'd seen on television.
It was also a great chance to trial a new range of food colourings, although her fondness for blue macaroons left me scratching my head - blueberries don't really come out that colour.
A macaroon is officially classified as a friandaise, a French term for a confection served after the dessert course. As you may have seen on Masterchef recently, these almond meal or coconut meringues can be really tricky to make, but are a guaranteed source of fun and mayhem with the kids.
A little planning ahead is required. First, you need to draw 25mm-diameter circles on parchment paper, then turn it over so any ink doesn't end up imprinted on your macaroon.
Use a piping bag and place a dollop of your macaroon mix in each circle and slightly flatten with the back of a spoon to get a consistent size (then you can sandwich them together with a creamed filling).
I find pulsing the ground almonds in the food processor is a good way to warm and lighten them, making it easier to fold in the whipped egg whites.
Wearing disposable gloves, add the food colouring with an eye dropper or syringe to avoid overdosing - once that colour goes in there, there's no return. Another great tip is to dry your macaroons in a warm room 15 minutes before baking so they form a skin that will hold the shape.
Once they're done, and with more meringue on my daughter's face than the oven tray, we venture on with other sweet treats.
With the remaining egg whites, we made passionfruit marshmallows and my favourite, Turkish delight or lokum. Produced in Turkey since the 15th century, it's flavoured with rosewater, lemon or mastic (a resin) and filled with nuts or candied fruit.
Then, over a drinks break, we take a request for white chocolate fudge. This sweet treat sure has some old wives' tales around it - supposedly, it can't be made when it rains; others insist the fudge turns out better when somebody else stirs it.
For those who don't have a sugar thermometer, once the bubbling starts, set the timer to five minutes and stir the mixture the entire time. Remove from the heat, add other ingredients and set in buttered trays. Despite my palate now being saturated with sugar, I manage to finish with those pretty scallop-shaped honey cakes called madeleines from the little French town of Commercy, whose bakers were said to have once, long ago, paid a "very large sum" for the recipe.
After a big day in the kitchen, I relax and put my feet up with a gourmet magazine - only to read about Hotlix lollipops encasing scorpions and worms. I think I'll stick with the more traditional sweet treats.