New Zealanders are ditching their shyness and complaining, writes Anna Rushworth.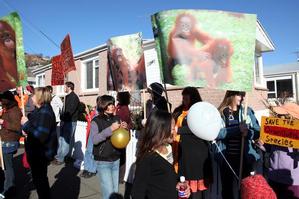 It was supposed to be a simple roast kumara salad. But something moved, and a gentle prod of my fork revealed the source behind a quivering piece of greenery - it was a beetle.
Lying flat on its back, its six legs pointing up to the cafe ceiling in defeat, the beetle showed all the signs of having been roasted along with the pieces of kumara.
We had waited 45 minutes for our meals; we'd been offered the wrong drinks three times; the people at the next table had their dog underneath it, eating scraps from their plates.
Now, a beetle.
"We're leaving," I said to my partner. I summoned the waitress as we stood up, and politely told her we would not be paying. And we walked out.
Extraordinarily, many New Zealanders would have hidden the beetle under a napkin, grumbled a bit under their breath, stoically eaten the meal, paid and left.
That is changing, say those in the "complaints industry". Kiwis are complaining more.
Perhaps it's the influence of TV shows such as Gordon Ramsay's The F Word, in which restaurant patrons are encouraged to walk out without paying if the food's not up to scratch. Perhaps it's about a changing culture of accountability in business and the workplace.
Whatever the reason, something has to change. We have to complain more.
That's the view of David Bogan, author of What's Keeping You Awake at Night, who says New Zealanders are famously reticent in complaining about service, food standards, or any other type of bad service.
Bogan compares our backwardness in coming forward to the stature of our national emblem, the kiwi. "We have our head and our tail facing the ground at the same time."
Bogan says by not letting retailers, restaurateurs and big corporations know when things are bad, things will never change for the better.
And we have to complain better. Too often, Kiwis have been prone to making ineffectual little protests and boycotts. These may have proved personally satisfying, but they achieve little in extracting improvement from the shop, restaurant or service provider.
A colleague recalls the time an Orewa beachfront cafe delivered four omelettes for his table of three. Having paid upfront without realising he was being charged extra, he demanded a refund for the extra, unwanted omelette - but to no avail.
The manager refused to emerge from hiding in the kitchen, sending out messages via the waitress. No, he would not refund the $8 paid for the extra omelette. No, he would not come out front to discuss the matter.
Five minutes later, the waitress emerged with the now cold omelette wrapped in tin foil, dumped it on the table, and stalked back indoors without a word.
So, the colleague's girlfriend purloined a stainless steel teapot, which she estimated to be worth about $8. He, meanwhile, unwrapped the foil and smeared the omelette all over the front of the cafe, while brunchers inside looked on aghast.
It was, he says, the most satisfying and therapeutic $8 he's ever spent.
But did service improve at the cafe? Probably not.

Tall poppy syndrome and the Great Kiwi Clobbering Machine are partly to blame for our reticence about laying a formal complaint, according to AUT University psychology head Dr Mark Thorpe.
Early colonials were often the younger sons of large families who chose to leave their homeland to create new opportunities here, says Thorpe.
Many of them resented the British class system. "It's not a good idea to look like a British upper-class knight and complain at a restaurant table," he says.
Add to that our small size and isolation: Thorpe believes Kiwis find it difficult to complain because we don't have a very strong sense of self.
Steve MacKenzie, chief executive of the Restaurant Association, says customers simply don't complain when they should.
"It's not about being aggressive," he says. "If we want people to succeed we will tell them when they do good things and when they are doing bad things."

It has been a while coming, but New Zealand now has a complaints industry. Since the Office of the Ombudsman was established in 1962 to deal with formal complaints about government departments, there has been a slow but steady growth.
The Race Relations Conciliator (now commissioner). The Human Rights Commissioner. The Banking Ombudsman. The Privacy Commissioner. The broadcasting and advertising standards authorities.
Times are changing, and we are now prepared to make a fuss about something as small as a chocolate bar.
New Zealanders took on confectionery giant Cadbury last year when they realised their favourite Dairy Milk chocolate bar was being made with palm oil.
There were protests at Cadbury's Dunedin factory and the negative feedback caused Cadbury to ditch palm oil and return to cocoa butter.
"There's nothing like going through an experience like that for any type of business to really understand that the consumer is the one that owns the brand," Cadbury's Daniel Ellis said.
Have you suffered shoddy or shonky treatment from a retailer or service provider? Complained to no avail?

Email our specialist consumer affairs reporter, Alice Neville, at alice.neville@hos.co.nz, or write to her at: Herald on Sunday, PO Box 32, Auckland 1140.