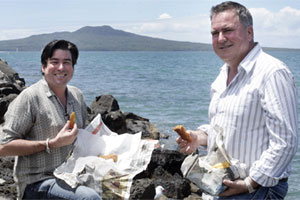 It is such a perfect blue-sky day; such a simple dish.
But fish and chips on the beach is never going to go smoothly when you've got two top chefs in tow.
For a start, it's not a regular menu choice for either of them ("a blue moon experience,") says Ross Burden. Then sidekick Simon Gault decides to really push the boat out. He orders oysters on the side - only they don't do oysters here.
Still, these are the demands that pre-publicity brings. And so they soldier on regardless. Down to the water's edge they trundle, newsprint parcels of battered fillets and chubby fries in hand. A screech of seagulls flocks in greedy expectation.
Burden and Gault may well have been hoping in recent weeks that they could indeed have thrown some of their offerings to scavengers. They are two parts of a trio (the third being Ray McVinnie) who preside as judges on MasterChef New Zealand, debuting early next month on TV One.
Talk about it getting hot in the kitchen. These three each have lengthy and impeccable culinary credentials. The mere thought of having your amateur creations repeatedly critiqued by any one of them, let alone as a group, is enough to put you off your dinner. And yet more than one thousand would-bes lined up to have a crack at just such an opportunity.
MasterChef New Zealand is based on the successful Australian version of the BBC format. It may be the first local series, but it's been around longer than the qualifying age (18 years) for contestants.
Age certainly did not weary, nor did distance deter, those vying for a spot in the series. The youngest just scraped in, year-wise; the oldest was 69 (a "sprightly" thing, says TVNZ's publicity department, "she said she could show the young people a thing or two.") They came from all over the country, with 100 each making it through to auditions in Wellington and Christchurch and a further 300 in Auckland. From there the top 60 nationals went through to the cooking audition in Auckland (the results of which will be screened in episode one) and then the top 24 made it through to episode two, with the final dozen whittled down from that.
Secrecy dictates that we not reveal much more about the contestants, other than to say that they were all enthusiastic amateurs. For the audition they had to cook the dish of their choice. This is, truly, pressure-cooking: they had one hour from preparation to presentation to get it all together. And so it would go on.
Before then, they'd gone through the interview stage. Explains Burden: "We were establishing that they really were keen and that they weren't a one-cook wonder. You might make the best pavlova in Christchurch - but can you make a hollandaise?"
We start today at Auckland's gorgeous Takapuna Beach Café, a stone's throw from the house in which the final 12 were sequestered. McVinnie is in absentia: he's lecturing a summer school in gastronomy at the Auckland University of Technology. Burden and Gault had not known each other before this series started, but are clearly comfortable in each other's company.
But things get off to a bumpy start. Burden wants a lunchtime glass of sauvignon; the café is not licensed. Horrors. He settles for a virgin Bloody Mary instead. Gault gets the modern-day equivalent of an ice cream soda. It used to be Fanta and vanilla ice cream; today it's San Pellegrino Aranciata and the café's award-winning vanilla gelato that is presented.
Gault brings a mischief-making approach to the table; Burden is the entertainer. The latter has seen all this before - and from both sides now. Born and raised in Hawke's Bay, he got his entree into food when he made the finals of MasterChef UK in 1993. "I've come full circle," he says. "It's all part of the progression of my career."
In any reality-type format there is, by necessity, the nice guy and the evil bastard. Gault and Burden are having none of that - and nor did McVinnie when spoken to separately. If you didn't know otherwise, you'd think they were auditioning for a part themselves. Or maybe seeking an invite for season two.
Burden: "We were all sweetness and light. It's very warm and fuzzy, rather than cold and prickly." Gault: "Working with Ross and Ray was an incredibly great experience, we were all on the same page." McVinnie: "I loved it; it was totally enjoyable."
Well, there were moments of course. And some poor participant will, right now, be grateful that their anonymity has, for now at least, been preserved. Burden: "One contestant in one challenge made something so horrible, so multi-coloured, it looked like the Christmas window display at [top Auckland department store] Smith & Caughey's - under the influence of controlled substances."
Another effort earned the following observation from Burden. "It looked like the fridge fell over."
Food, glorious food. Long day upon long day of looking, tasting and talking about it. But you can have only so much of a good thing. A fair few bits of fillet beef seems to turn up. And: "We did get sick of lamb and asparagus," says Burden.
Since his UK MasterChef appearance, he's enjoyed an international culinary career. Credits include appearances in numerous cooking and travel shows - including the British and local versions of Ready, Steady, Cook. He's owned his own catering company, has cooked for the rich and famous and travelled extensively. Today he's wearing chappals, hand-made jandals from India, evidence of his lengthy jaunts throughout Asia. Although largely based in London in the past, he's decided he'd like to stay in his homeland a little longer.
Gault took time out of his role as executive chef for the Nourish Group - its restaurants include Euro and Jervois Steakhouse in Auckland, Bistro Lago at the Hilton, Lake Taupo, and Shed Five and Pravda in Wellington - to judge MasterChef. The part-time pilot who owns a Thunder Mustang - a replica of a P51 Mustang - is, according to Burden "Mr Congeniality". Both Gault and McVinnie's reputations had preceded Burden's return to New Zealand. He'd regularly read all about Ray in Cuisine magazine, where McVinnie is food editor (he's also a food stylist and guest chef for various cook schools). And, according to Burden "the 'Gaultmeister' is a legend in his own lunchtime".
McVinnie wasn't so familiar with the show when approached to take part. "I'd never seen it before I auditioned. But they said I was really good, and then they picked me," he says with a degree of incredulity.
This is what they look like on set. Gault and Burden are Boggis and Bunce to McVinnie's Bean - in looks, if not deeds or demeanour. Unlike their Fantastic Mr Fox equivalents (one lean, one round, all of them mean) they make a genial threesome, but you know you're in trouble when they award an 'E' for effort. That is the culinary equivalent of a swift execution and the awardee is swiftly shown the door that leads to no more. Still, it could be worse. One hapless attempt sparks what looks suspiciously like a gagging reflex in McVinnie.
He says there is loads of emotion in the series - and indeed there is: tears of the rejected, tears of the selected, tears of true personal tragedy. There is blood (woefully-under-done lamb) and sweat (every contestant perspires profusely) too.
Like his colleagues, McVinnie is endlessly enthusiastic about the cast of contestants. "These were real people. They weren't fabulously glamorous, half-naked people. None of them had ever worked in a kitchen before. It was a true mix of real New Zealanders."
That, he says, is what makes this series different from other reality-based television shows. Gault agrees, adding that television food shows are the 'new black' in programming. "I don't go anywhere these days where almost at the top the discussion, unprompted, is what's on the food channel, or what's on a [particular] food show."
They've all judged food challenges before. This one McVinnie particularly relishes. "I loved the fact that I didn't have to worry about [preparing] the food. All I had to do was taste it and talk about what I thought. It was like this gigantic sensory perception exercise."
Away from work, each has their own personal favourites. Burden likes South East Asian food; Gault will be doing a new take on rotisserie chicken, with five different rubs tonight. Meanwhile, McVinnie is getting into Greek cuisine.
Who knows who wins? At audition stage, they employed a secret code of identifying those who were in against those who were out, but they did not pick the ultimate winner, as is often the case in other reality shows, until the very end.
Food is like that, says Gault: "You have your outstanding nights and your not-so-outstanding." Adds Burden: "There's enough uncertainty about it to keep the public guessing."
All that slaving over hot stoves. All that chopping and dicing and slicing and stuffing. And then the agony of the wait when the dish is plated and presented and its creator awaits the executioners' verdict. Do they get a MasterChef apron, which signifies selection? Or do they too get the chop?
There has to be some reward. Around $100,000 worth of prizes are at stake, together with the MasterChef New Zealand title for the winner. Burden, a former marine biologist, is living, walking, cooking proof that such shows can change your life. Would he do it again as a contestant? "Oh, absolutely."
Will he be watching it? "I won't like to."
Gault thinks he will park himself in front of the telly to take a peek. "I want to see how it all comes together."
And McVinnie? "I'll look like an absolute idiot geek, but I'm curious. I'm sure I'll look like a complete fool."
No doubt some of the contestants are having that very same thought.
* MasterChef New Zealand debuts on TV One, Wednesday, February 3 at 7.30pm.