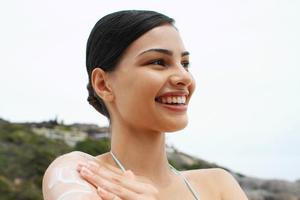 Some New Year's resolutions will be aspirational goals to read high-brow biographies, or George Bush's new book, which is set for release this year.
But I have kept mine deliberately simple and, what's more, I intend to be through them all by the end of January.
The first tick on my list went to eyelash perming last week and the second satisfying swoosh is now in place after trying IPL.
Intense Pulse Light treatment is the new buzz for faces of uncertain years and many of my friends have come out of the closet confessing to the reason they now get asked for ID.
Wanting to look like an airbrushed cover girl I went to Avana Cosmetic and Laser Clinic in Auckland's Chancery.
Neelu Taore gave me the appropriate forms to fill in regarding my medical history, explained what was about to happen, showed me pictures and then we got on with it.
Happily, age spots aren't related to age. They hit indiscriminately regardless of age or sex and are also described as liver spots and sun spots.
Basically the skin cells are zapped by UV rays over years of sun exposure causing an increase in melanin production, darkening the skin.
IPL works at a deeper level than scrubs and microdermabrasion to lighten or even remove them.
I held small ice packs on my face for a few seconds then with a wand in her hand, Neelu performed her magic.
Each little blast from the laser stung like the flick of a rubber band and there was the faint smell of burning, which was a little disconcerting.
But as IPL is also used for hair removal, any rogue whiskers were probably removed at the same time.
Four to six treatments are recommended, but even after one I can see the difference.
This isn't a miracle cure, rather the chance to wipe the slate clean and apply 70+ sunscreen daily lest they return.
The jury's still out on whether it was worth it, but I'll probably go back and have at least one more, although after summer because the skin is highly sensitive for a few weeks following treatment.