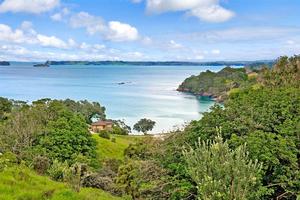 We're buying a bach for Christmas," announced my husband to the gathering, with all the largesse and aplomb of an Eric Watson, Owen Glenn or a Mark Hotchin, who must quite frequently use similar statements after substituting "bach" with "$30 million mansion", "luxury yacht" or "tropical island". This was news to me on two levels. The fact that we could afford a bach and that my husband felt he had to share that information with others. For one moment I wondered if overnight he had morphed into a multimillionaire and I into a beautiful blonde ex-model.
We were neither multimillionaire provider nor kept woman. And I was about to launch into one of those embarrassing disagreements couples have in front of other people, where I would refer to him as delusional and a fantasist if he thought we could afford to buy a bach. Fortunately, my newfound friend, Shut Your Mouth And Think About It, interrupted. Shut Your Mouth entered my life about a year ago at the same time I stopped blabbing about every little thing I didn't agree with. It turns out that just because you have an opinion doesn't mean you need to bore the world with it.
Shut Your Mouth kindly pointed out that sometimes it's just wiser, cooler and better in the long run if I sit back and be very, very quiet. "Did you hear what he just said?" she whispered in my ear. "He's finally come around to agreeing to buy a bach. After all these years. Who cares how he said it!"
And she was right, as usual.
My desire to buy a bach has been periodically brought out to test the marital finance waters over the years, only to be shut down by the sensible one in our marriage, who quite rightly thinks one mortgage is enough and when that is paid off we could talk about it. End of discussion.
"I heard what you said," I pointed out to him the next day, bundling him into the car for an impromptu bach-hunting ride north.
"I just meant we were going to look at a bach, not buy it," he backtracked unsuccessfully.
"You said `buy' in a very 'I'm ruling the roost' manner and I have no choice but to accept it as fact and besides, I have witnesses."
We didn't buy a bach for Christmas despite great prices and low interest rates.
What I hadn't realised in the decades of planning for just such a moment was that I have become the bach-searching equivalent of the single woman who can never find a man. My checklist is as long as my arm and I will not accept anything that doesn't meet all 75 of my requirements, as contradictory as they may seem.
I want quiet and solitude, but not too far away from a pub. I want rustic and rundown, but just surface rustic and rundown, not a complete do-up. I want a sea view, but not too near the water because of rising sea levels due to climate change. I want exactly one acre, no more or less. I want ... you get the picture.
We've looked at cottages which meet 74 of the 75 requirements and I still walk away.
"It's my dream," I said. "It has to be perfect or not at all."
"Then you'll still be looking when you are 80," he said unkindly, no doubt wishing I was an easily pleased 25-year-old blonde model gushing all over him and promising him any number of sexual favours in return for my Christmas chateau. "And I'm just not sure you'll find a cottage with an old horse, a kunekune pig and a goat, complete with solar power and a composting toilet, by a river but close to a beach, in a quiet location but not scarily quiet."
And with that he stomped off to consult his computer about what to get me for Christmas.
I suggested that instead of a bach, perhaps we could rent each other a beehive for the front garden and help replenish the depleted bee population because of the varroa mite.
No response.
A compact freezer for the bumper tomato crop I was expecting this summer?
Silence.
Subscription to the Auckland Philharmonic?
I think he's bought me a T-shirt and I think I know what it says. "I shut my mouth and all I got for Christmas was this crappy T shirt."