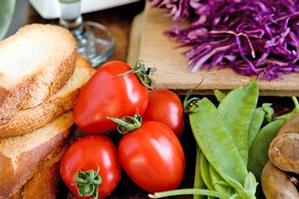 Invitations come thick and fast at this time of year and whether you are having a relaxed barbecue Christmas Day or have been asked to bring a plate to a picnic or barbie, you will want to turn up with something worthy of extracting oohs and aahs from your fellow guests.
Kiwi classics at such gatherings tend to be potato salad and coleslaw, and someone always tends to bring a platter of crostini topped with bits and bobs. Well, move over standard fare - while today's recipes had humble beginnings, they have been flashed up and are inspired by the best of tasty and fresh ingredients.
For the potato salad, find some jersey bennes, which are in the shops now. Combining them with capers, pancetta, lemony creme fraiche and basil makes for a delicious salad without the heavy mayo.
Coleslaw doesn't have to be a dreadful gluggy affair full of grated cheese and carrot - this one takes inspiration from the fabulous Vietnamese shredded chicken salad - cold and spicy with poached chicken and the tart crunch of finely julienned granny smith apple.
Hunt out Vietnamese mint for its distinctive hot flavour or, better still, plant some in a pot - it grows like mad but does need to be contained. Common garden mint will still be good, just use plenty of it.
Lastly, a tasty topping for crostini ... buffalo mozzarella stuffed into small tomatoes with a little anchovy and thyme then roasted until they collapse and can be squished on the toasted bread. Use good quality bread that retains its texture once toasted, and don't be shy with the extra virgin oil.
Chef's tip
Pancetta can be replaced by streaky bacon cooked until crisp, and jersey benne potatoes can be exchanged for sweet, freshly dug new spuds. Dress the coleslaw at least two hours before serving chilled, to let the flavours develop.