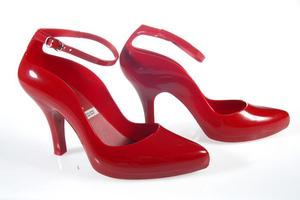 It was just another day at the office. Jo Pearson, owner of Mei Mei, a chic, import-only shoe boutique, was at the till when a woman walked in.
Ten thousand dollars later the shopper walked out, clutching bags full of designer shoes. In the 10 years Pearson has run her Ponsonby shop, it was her best trading day ever.
Many of her customers don't give a continental about the price tag. They, like the $10,000 spender, just want drop-dead gorgeous shoes.
Regardless of their status or income, some people will go to any lengths to get a special pair of something on their feet. In Auckland last week, a pair of Manolo Blahniks (size 8) were stuck on a billboard at a prominent city junction. The 11.5cm bronze metallic snakeskins, priced at US$865 ($1186), were free to the first person to reach them. Part of an icecream promotion, it was all over in three hours. That's how long it took for a male claimant, aided by a ladder and a female base crew, to reach the dizzy heights of Manolo success.
What is it about shoes? Why will some people put their feet first and forego some of life's essentials?
You don't have to be an Imelda Marcos to qualify as having a footwear fixation. (The former Philippine First Lady reportedly owned more than 3000 pairs when her husband's regime was overthrown in 1986; the collection later warranted its own museum.)
It doesn't have to be about sex either, although that certainly helps - as Carrie Bradshaw in Sex and the City demonstrated. By the time the television series made it to the big screen, Bradshaw's exploits with designer shoes, the names of which required their own lexicon, had seen a pair of satin blue Manolo Blahniks warrant status as fifth star in the cast.
Bradshaw would have had a big budget; she would need it. And for all her expenditure, the spontaneous Mei Mei shopper would not have needed much help with her bags on the day she spent up large. You don't get much change from $1000 for a pair of anything here.
To illustrate: on the day of this interview, a woman has just trotted out with a dainty wee set of Chloe pumps. The patent and black leather peep-toe numbers were all hers for $999.
A pair of Henry Beguelin hand-made, hand-stitched Italian boots are in stock - with a $1328 price tag. Auckland rower Dominique O'Brien tells of a pair of Marc Jacobs boots she set her sights on. The $1100 price tag was way out of her reach, even higher than the ridiculous heels these must-haves had. So O'Brien and her best friend - who had the same shoe size - decided to go halves. They shared custody: three weeks each on a rotational basis, an arrangement that worked surprisingly well.
O'Brien, who rows single scull and double scull for the Waitemata Rowing Club, has something of a shoe history. The oldest of four children, and the only girl, she says she developed a shoe addiction at an early age. By the time she was 16, her parents custom-built a wardrobe to accommodate the 40-plus pairs. And still they overflowed.
O'Brien, now 23, and living with her boyfriend, thinks she is more grounded. "My collection is definitely smaller." (This, she says, is partly due to her parents no longer financing her purchases.) "And I also had to buy my own boat, which cost $13,000."
It's not just a girl thing. Auckland art dealer Gary Langsford admits to having a "bad, bad shoe fetish". He owns 35 to 40 pairs - all of them black. Langsford - a suit and T-shirt type of bloke - has been quoted as saying he treats some shoes as pieces of art. He bought a pair of Jil Sander silk shoes seven years ago but has never worn them. They're too beautiful, he says.
Zambia's former President Frederick Chiluba allegedly can lay claim to more than 100 pairs of custom-made, size 6 shoes. They reportedly have 5cm heels, to boost his 1.5m frame.
It could be teaspoons, stamps or badges. But there comes a point, says Dr Mike Lee, when the accumulation of one item borders on the obsessive.
Lee, who lectures on consumer behaviour at Auckland University, says people who amass a multitude of any one thing demonstrate collective behaviour. "The product is no longer functional, it's symbolic and sacred," he says.
Tell that to Hinu Te Hau. Like O'Brien's, her collection has lessened a little. At its peak it was at 225 pairs; now it's down to 147. "I've been doing a massive clean-up," says Te Hau, 46, a former tourism professional who bought shoes all around the world.
Te Hau has a shoe shrine: each pair is bagged, boxed and stored in a specially designated wardrobe. Like a library, they are catalogued, according to occasion. Some of them have not ever had a public airing. She likes to dress from the feet up, so she chooses the shoes before the outfit.
"It's about personal grooming. If I've got tidy feet, I feel happy."
Lee says a high heel has an effect on an evolutionary psychological level. "It adds height, and height equals status. The tallest person in the room has a certain aura.
"It also changes the posture; it lengthens the leg and pushes the chest out, enhancing the bust line."
Paradoxically, Lee adds, the resultant walk - more a teetering tip-toe than an assertive stride - makes the wearer more demure, thus adding a level of sexual innocence.
So what comes first - the buying or the wearing? Lee thinks it's the anticipation of buying the next pair; the release of tension once the shoes have been bought.
"The wearing bit is secondary. The fact of having it - the desire to acquire and own - far outweighs the need to use."
Clinical psychologist Gwendoline Smith is ideally placed to make observations, visiting the apartment of someone with a shoe fetish when the Herald on Sunday calls. "With labels and brands, it fits into a status and prestige statement; the brand is the display of the affluence."
Citing Sex and the City and The Devil Wears Prada, Smith says there is also the emulation of celebrity. "And let's face it, celebrity in our culture is huge. It's like the gods were to the Greeks."
Te Hau no longer works in tourism; instead she is completing her Masters of Philosophy in economic development. Now a budget-conscious student, Te Hau admits to visiting the Number 1 Shoe Warehouse. With the right eye, there are "lovely" bargains to be had. That from a woman who once paid $1500 for a pair of shoes - "absolutely gorgeous Vicinis, fabric with a gold heel and a precious stone anklet ... I can honestly say that if I hadn't had such a serious shoe fetish, I'd be very wealthy now."
- HERALD ON SUNDAY