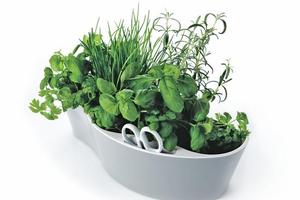 Let's Go Retro, the vintage store in Swanson, has amassed a whole range of old fashioned tins and chocolate boxes from the 1950s, 60s and 70s. Priced from just $10, store owner Simonne Le Masurier is suggesting people fill them with home baking to create a personal Christmas gift with a vintage twist. (Check out Amanda Laird's recipes on pages 46 and 47 for inspiration.) And while you're visiting her store - which is a treasure trove of delights- be sure to check out the hand-embroidered decorations and stockings made from recycled blankets by local Bethells lady, Colleen Saunders. Let's Go Retro, 717 Swanson Rd, Swanson, ph (09) 027 305 3648. Open Tues-Sun 10-6pm, late night Thurs until 8pm.
Cover up
Now here's a brilliant idea. Tired of looking at your ugly old barbecue cover? Well, an innovative company has come up with a range of two-toned canvas covers that are decorated with simple designs - the Tuscan Olive, Shady Elm, Mad Snapper and the Sheep. $115 from www.bbqcanvas.co.nz
Food for thought
"One cannot think well, love well, sleep well, if one has not dined well." - Virginia Woolfe, A Room of One's Own. This is just one of the delightful quotes about food found in The Joy of Eating ($32.99: Virago). First published as a hardback in 2006, this paperback version is the perfect holiday read for a lover of food. An anthology of writing about food from women through the years, it includes pieces from the likes of Anne Frank, Beatrix Potter, Emily Bronte, Sylvia Plath and Nigella Lawson.
Bags that!
It's always been annoying that while we can take our own bags and baskets to the supermarket to bring our shopping home in, we still have to resort to plastic bags when choosing our fruit and vegetables if we don't want them rolling around. Well, not any longer. Auckland mum of three Lisa Cohen-Smith has created a reusable Fresh Produce Bag. Currently available at New World Victoria Park, Green Bay and Wellington City, the bags cost $2.99 each or $5.99 for three and are made from 100 per cent unbleached cotton. Owner of New World Victoria Park Rob McGregor explains, "When the customer brings their filled Fresh Produce bag to the check-out, we simply deduct the weight of the bag, so it's an easy way for our customers to do their bit for the environment." We like.
Grow your own
There's nothing better to transform a meal than fresh herbs. That's why we love this stylish Herb Garden holder from Simon James. It's a neat and tidy way to keep your herbs together, plus there's a handy pair of scissors included. $157 from Milk + Sugar at the Simon James Design Concept Store, The Department Store, Takapuna.