Address: Level 1, Three Lamps Plaza, 283 Ponsonby Rd
Phone: (09) 360 2122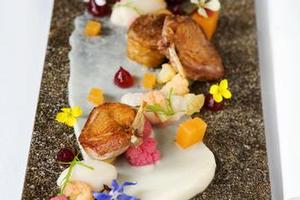 It's every bright young chef's dream - to set up their own restaurant. Goodness only knows why given it's such a risky business, costs a bomb and is a guarantee for hard work with no guarantee for making a profit. So when I heard that Sid Sahrawat of The Grove had gone out on his own and opened SidArt in Ponsonby, I was keen to support the venture.
Upstairs in the Three Lamps Plaza, SidArt is a small but perfectly formed space, with views towards the Auckland City skyline. Sid has won awards for his innovative style and is a big fan of molecular gastronomy. I'm not so sure I am. When it first became "the new way to cook" I'll admit that I enjoyed my fair share of science-driven degustations in Melbourne and Spain (sorry to boast) but the novelty soon wore off for me.
All of the dishes we sampled at SidArt were very complicated and while well executed, they didn't really linger in our memories for long.
For a starter, my dining friend selected the Firstlight venison. It came with a distracting seven other ingredients - a smear of beetroot puree, tiny dots of goat's cheese, freeze-dried raspberries (or were they blackberries or even boysenberries?), wee rounds of beetroot, smoked fig puree, truffle mousse and strands of Earl Grey spaghetti curled around the plate.
My starter of Easterbrook quail was a beautifully cooked, confit leg and tender breast fillet, sliced and served with cauliflower puree, dried chorizo, blood orange gel, pinenut something and I think there was some melon in there. What did our starters taste like? Well, like a lot of things given that they included so many different ingredients. However, we agreed, none of the flavours particularly blew our minds.
Our mains were similarly complex. The roasted terakihi main ordered by my friend came with green pea puree, potato gnocchi, prawn and fennel jelly and was topped with prawns wrapped in pancetta. The fish was cooked perfectly and the saltiness of the pancetta gave a wonderful lift to the dish.
I selected the beef fillet because it came with oxtail, which I adore. The beef was fabulous having been wrapped in dry hay and then set alight, imbuing it with a smokey flavour and melt-in-the-mouth tenderness. Dotted around the plate were small cubes of coffee panna cotta and the whole lot was topped with a coffee foam. In a small, separate pot was the oxtail with celeriac that was the highlight of the evening in my opinion. No whipping, no foaming, no freeze-drying - just slow cooked, rich and delicious.
There was nothing simple about the desserts either. Our taste-buds were exhausted.
The service needs more practice. Everyone is a little nervous still. If you're a fan of "clever food" you'll enjoy SidArt. If you're more of a follower of the art of simple cooking you may feel as exhausted as we did by it all.
Nonetheless, this new venture was mostly full the night we visited. On a Tuesday night and for a 4-week old restaurant, the risk appears to be paying off.
Cuisine: International
From the menu: Firstlight venison $22, Easterbrook quail $22, Roasted terakihi with potato gnocchi $35, Beef fillet with oxtail $35, Creme brulee $15, Coconut parfait $15
Drinks: Fully licensed - good selection by the glass.