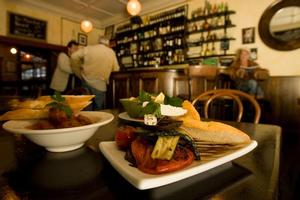 Sooner or later, the temptation becomes too great even for those who have just popped into Mondial for a quick drink or three. Those appetising little plates keep being ferried past, and the idea of a bit of ballast for the liquor becomes irresistible.
We went with the intention of eating but this establishment, which calls itself a cafe/bar, is a multi-purpose rendezvous and some of the other customers were obviously "social drinkers", as they say in the dating ads.
But it was amusing to watch the appeal of "just some fries, perhaps" parlaying up into more substantial orders.
That this happens is not surprising, as we discovered when our selection of little bites arrived. Mondial also has more substantial meals, including a fine-looking sausage and mash with onion jam, but I am a great fan of bits and pieces eating.
I have always liked that finger food carted round by bored waitresses at receptions and openings, even back in the days when it was bits of tinned asparagus wrapped in bread and a sad sausage on a cocktail stick.
So I hardly knew where to start here, and we picked a fair range to provide a decent test - a test passed with room to spare. The prawns were moist and done to perfection. The tuna skewers with lemon and caperberries were similarly faultless. Then there was the escalivada, marinated grilled vegetables, a generous plate of capsicum, eggplant, zucchini and mushrooms, dark and full of flavour, graced with slices of feta.
The carnivore option on our first pass was the meatballs in a rich, tomato sauce - how vegetarians can resist such pleasure is outside my mindset.
This array probably should have been enough. But I was overtaken by an attack of gluttony and added the paprika pork to my tab. Another winner.
There is a small dessert selection, not always provided in other places specialising what might be considered the tapas bar style, so it would have seemed a dereliction of duty not to try one. The creme caramel, for no apparent reason, seemed less indulgent than the chocolate mousse. At the risk of sounding repetitious it was another little gem.
The wine list is not enormous but it includes some Spanish and French offerings which is most appropriate and there are several good options by the glass at a reasonable price. But the attraction here is more than the food and drink, good though that is in a simple, unpretentious cafe style.
What pulls the crowd over to what is not the most attractive quarter of Grey Lynn is the atmosphere. The blend of cheerful drinking, the buzz of conversation and the lively air lifts the spirits, as does the bonhomie and joie de vivre (I don't know the Spanish equivalents) of owners Manuel Garcia and Pascal Murello, who are much in evidence.
Rather too many New Zealand cafe owners think being matey with the customers is enough, but this pair match their conviviality with true professionalism.
We are not regulars but on a bustling night we were treated as if we were, and the service was thoroughly efficient. You can also get out without too big a hole burned in the plastic, even if you are a tad greedy. Now there're just a few more things I'd like to sample on the little plate list and then the mains look good and I caught sight of what looked like a particularly good antipasto platter.
Rating out of 10
Food: 8
Service: 8
Value: 9
Ambience: 9
Our meal: $119 for five little plates (mostly more substantial than regular tapas), one dessert and five glasses of wine. Wine list: Reasonable and with some interesting French and Spanish entries.
Verdict: A cheerful experience with more than decent food. No wonder you can hardly get through the door.