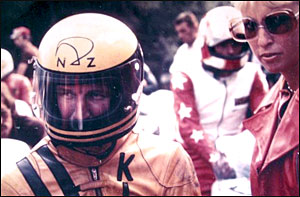 An Auckland film-maker is furious with a television company he says muscled him out of his own production, then made a hash of it.
Tim Hanna is taking court action against Visionary Television and its managing director, Richard Driver, over the company's treatment of a documentary about New Zealand motorcycle racer Kim Newcombe.
When Newcombe died in a race at Silverstone, England, in August 1973, he was a motorcycle-racing star.
In 1973, he won the 500cc Yugoslav Grand Prix and came second in the World 500 Grand Prix Championship.
He took top-four placings at 500cc Grand Prix events in six European countries in 1972 and 73.
He also gained recognition for his bike, a Newcombe-designed machine incorporating a marine outboard engine.
Hanna - also the author of biographies of "world's fastest Indian" Burt Munro and motorcycle designer Jon Britten - told the Weekend Herald he talked to TV3 in 2003 about making the Newcombe documentary, and the project was commissioned.
He then approached Visionary boss Richard Driver, who agreed Visionary would make the film, with Hanna retaining broadcast rights.
But Hanna says he was slowly sidelined from the production, a new director was appointed and the "inspirational" film he wanted to make morphed in to "a fashionably bleak film noir".
"I didn't even get the job of researching it."
The 76-minute film, entitled Love, Speed and Loss, played at last year's New Zealand International Film Festival, and at festivals in Melbourne and Berlin, but has not yet screened on television.
Hanna says he discussed the proposed film with Newcombe's widow, Janeen, who was positive about the idea and "extremely keen" to see her husband's memory honoured.
But Mrs Newcombe, terminally ill at the time, has since died and Hanna says the final film cast a pall over her last days.
"They hounded a dying woman who was in pain and was extremely tired ... and who lived with a certain amount of fear.
"They didn't treat her respectfully."
The film was also less than inspirational, he says.
"It was a mock gothic effort that, far from inspiring you, makes you not want to get out of bed.
Janeen's son, Mark Newcombe, told the Weekend Herald yesterday family members had early reservations about Love, Speed and Loss, but later changed their views.
"There was an opinion that it could have been more along the lines of a positive, uplifting, motivating story.
"But after we saw it a couple of times we came to appreciate that at least a documentary had been made."
Ultimately, the family would like to see a feature-length movie made, and it was hoped that production would be more upbeat, with less focus on "the darker side", Mark Newcombe said.
Richard Driver this week rejected Hanna's claims he was forced aside.
"I think it is ironic that he has chosen to sue me, yet he seems prepared to air this thing in the media when it should have its day in court.
"I think his claims are completely unfounded."
He also dismissed Hanna's belief that the film upset Mrs Newcombe.
"If she didn't like the film, why would the Newcombe family choose to have a huge party at the Coatesville family home and play the film to friends and family?"
The family had also hired a picture theatre to run private screenings.
"If that's not an endorsement, I don't know what is," he said.
A spokeswoman for TV3 said Love, Speed and Loss would be screened, but was not yet on the schedule.
A date for a High Court hearing is expected to be set on Monday, and Hanna hopes to regain his film.
"I want my film returned to me, so I can re-edit it to make it the film that Janeen and I wanted, and which is a fitting tribute to somebody who should be a national icon."

Why Tim Hanna is suing the TV company
In statements lodged with the High Court, film-maker Tim Hanna (right) accuses Visionary Television and managing director Richard Driver (left) of:
"Deliberate usurpation of my project through successive deceits and evasions."
"The exploitation...of Janeen Newcombe's terminal condition to portray her in a way that was grossly inaccurate and unfair."
"Negligence or poor judgment to an extent that constitutes crass, cultural vandalism."
By David Eames

Email

David