Address:
234 Jervois Rd, Herne Bay, Auckland
Phone:
(09) 360 0678
Rating out of 10:
Food: 8, Service: 8, Value: 7, Ambience: 7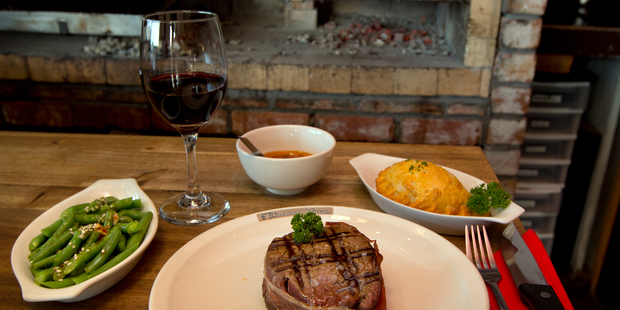 We'd heard about the Argentinian restaurant in Herne Bay that was giving Jervois Steak House some serious competition and decided to give it a try.
It was nice to hear a lilting Argentinian accent on the phone, learn that, yes, they do open on Sunday nights and, a couple of days later, settle down in that aromatic, wood grill-scorched atmosphere that I remember from Buenos Aires itself.
Happily, though, the classic Argentinian style has been slightly modified to suit New Zealand. In this Buenos Aires it's not just meat, meat and more meat. They also serve fish and a couple of pasta dishes, and each meal comes with two vegetable choices. That said, it's a suitably meaty menu, as it should be for a country founded on cattle farming.
Although it was a quiet Sunday night we were shown to a table down the back, well away from the parrilla or wood grill where much of the cooking takes place.
Which was a shame because parrilla-style grilling borders on an art form. It's certainly several steps up from your backyard barbecue - including a charcoal-burning Weber - and nothing at all to do with a gas hob. It's also fun to watch.
Most important is the wood: the chefs at Buenos Aires use manuka that's been dried for several years, then burned to embers, to lend a smoky, mildly pungent taste to the meat.
We started with the beef empanadas, which look like cornish pasties but taste way better: the filling savoury, pastry crisp and crumbling and the whole thing lifted to exciting heights by the chimichurri sauce, which Argentinians seem to eat with just about everything. A combination of garlic, chili, olive oil and herbs, it's tasty, piquant and just hot enough to kick those meaty dishes along.
Brian chose the chicken livers, a robust gaucho-style variation in a red wine sauce that left the livers soft and creamy rather than overcooked. Oliver, the vegetarian, settled for the bread and olives.
It was a strategic beginning, carefully chosen with the prospect of mighty slabs of meat to come. Our team of waiters were Argentinian and knew their stuff. We settled for a bottle of La Celia malbec and a glass of Hawkes Bay pinot gris for me.
Both were great, though the red was obviously a better match for what was to follow.
We ordered two dishes of green beans to share and a good choice they were - pepped up with a drizzling of soy sauce, chili and sesame seeds. We also went for the rosemary roasted kumara, cooked in red wine jus, an interesting combo which didn't exactly thrill me, but Oliver loved it.
Then to the heart of any Argentinian meal: the meat. Ben insisted on the bife de lomo or fillet wrapped in prosciutto (300g), which was the only thing I could do reasonable justice to, while Brian took on the more manly bife de chorizo or scotch fillet wrapped in bacon (400g). Sadly none of us were up for the massive 800g bife ancho - or T-bone - but even so our steaks, grilled over the embers, cut thick and super-tender, gave us an excellent example of the almost-obsessive Argentinian skillfulness and brilliance with beef.
Although they were cooked medium rare, there was no charring and not a drop of blood spilled on our plates. Ben finished his in no time as did Brian. I took a little longer, savouring the smoky, expertly seasoned flavour. Meanwhile Oliver was well pleased with his snapper which had been wrapped in tinfoil before being grilled over the gentle embers too, making it succulent with just a hint of smoke.
And yes, we did have room for dessert and they were all great: a huge slice of chocolate cake for Brian and Ollie, a flan (similar to creme brulee) with caramel sauce for Ben and the churros dipped in chocolate for me. Yum.
For a tango fan it's mildly thrilling to know there's a little corner of Buenos Aires here in Auckland.


Our meal: $332 for four entrees, main courses, vegetables and desserts.
Wine list: A good range of beers including Argentinian cervezas, gutsy Argentinian wines, cocktails and, for those who don't like to experiment, popular local wines as well.
Verdict: Yet another interesting addition to Auckland's line-up, Buenos Aires sticks firmly to its gaucho roots. The steak is first-rate and grilled to perfection, the decor has that slightly curled-at-the-edges Argentinian look and they have tango shows on Wednesdays.