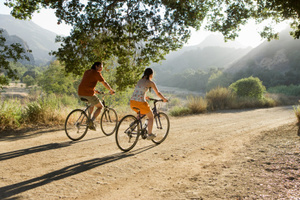 I have never been a morning person. Weekend lie-ins are sacred at my house. However, since I began training for the Lake Taupo Cycle Challenge, that's no longer the case. I've discovered the beauty of a long, early morning ride. Nothing beats it. The sun is peeking over the horizon, the birds are chirping, there's hardly a car on the road and all seems well in the world.
Now that my rides are getting progressively longer, I've realised the importance of making sure I keep my energy levels up. Good nutrition can make all the difference to a successful ride, plus it helps you recover much quicker. I've drawn on the experience of my trainer, Amy Taylor, to give me some tips on how to get the best results from fuelling my body correctly.
Before your ride
Always eat a snack or small meal about an hour before a ride. I've made the mistake of eating breakfast too close to a ride and spent the first hour feeling sluggish and nauseous.
Amy says you must give your body time to digest your food so it's not working extra hard to digest and exercise at the same time.
During your ride
If you are riding for more than an hour, carry small snacks. Muesli bars or bananas are best. I've starting taking electrolyte sachets on my rides. They are easy to carry and equally easy to consume because you don't have to muck round unwrapping or unpeeling anything. They're also absorbed quickly and give you a long sustained energy release. Eat every 45 minutes to an hour of riding time. Aim to consume 100 calories each time you eat (that's about the equivalent of one banana), 200 calories is even better if you can manage it. This helps your body keep performing; maintaining speed and producing greater gains like increased fitness and strength.
After your ride
Once your ride is over consume a simple sugar as soon as you can. A small handful of jelly lollies is ideal as they help your insulin levels return to normal more quickly. Drink a very large glass of water too. Then, about 45 minutes after the end of your ride, eat a normal balanced meal or a decent sized snack. This will help aid recovery.
Hydration
Hydration is just as important as the food you consume. Aim to drink one bottle of water (750mls to 1 litre) for each hour of riding time. Amy says isotonic drinks are also helpful to maintain hydration and have the added benefits of electrolytes and carbs to help fuel your body.
I'm proud to say this weekend I successfully completed my longest training ride so far - 50kms. It was also my first training ride with my dad - who's what you would call a veteran of the sport. He bought his first bike over 30 years ago so he could ride from our home in West Auckland to the CBD where he worked - and that was way back before there was a cycle lane alongside the motorway. He rode to work everyday regardless of the weather and at 65-years-old he still rides his bike to work today. We had the best morning together, out on the road, chatting as we rode along, dad giving me words of encouragement as I panted up the hills. I think one of the reasons I'm now a morning person is so I can have many more mornings like that. It was magic.