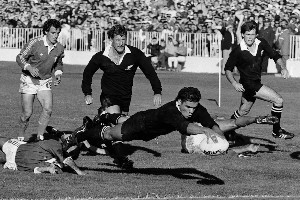 One try launched the inaugural World Cup into New Zealanders' hearts. One player did more than most to keep it there.
The first battle for the Webb Ellis Cup lifted off with an opening ceremony of school fair grandeur. When the coconut shy had been put back in a sack, the All Blacks played Italy at Eden Park in a downbeat kickoff for the new tournament.
But when All Black wing John Kirwan ran near the length of the field for a magnificent try before a paltry Friday afternoon crowd, pulses raced and the stage was beautifully set.
If Kirwan lit the fire, the 22-year-old openside flanker Michael Jones gave his all to keep it burning.
A penalty try having preceded it, Jones scored at the half-hour mark against Italy and started an All Black landslide that ended a month later on a sunny afternoon at the same ground in the final.
Jones had a few things in his favour at the 1987 tournament. He was part of a stable All Black lineup untroubled by injury and dominated by his Auckland teammates.
He fitted perfectly into a wonderful loose forward trio which included the might of Buck Shelford and the efficiency of Alan Whetton. Jones was the rapier, the gifted one.
New Zealand needed new rugby heroes after the dark days of the Cavaliers' tour to South Africa. Jones was fresh and exciting - an athlete in the trenches who was bordering on saintly in the way he played and lived.
His athletic gifts were a quantum leap for rugby forwards. He was more panther than even the Black Panther, Waka Nathan, the cherished Auckland and All Black flanker of a generation much earlier.
Jones' All Black predecessors came in a variety of moulds. Graham Mourie was an upright link man, Kevin Eveleigh wanted to rearrange rib cages. There were lots of variations in between. But none had anything like the menace and flow of Jones.
But to lift Jones too high above his teammates of 1987 would be unfair. They were a dominant team, with a number of players ahead of their time, and driven by the disparate but equally hard-nosed attitudes of Shelford and Grant Fox.
Jones' offerings included a glimpse of a future where Polynesian athleticism would become integral to New Zealand rugby, rather than an adjunct. It is a testimony to his unique brilliance, though, that no player has come close to compare for style.
Jones in full flight, with ball in hand, was magnificent. He had other strings to his bow, of course, including the ability to leap past taller buildings in the lineout.
There were other things that set Jones apart. He was a teetotaller in a sport where business and pleasure are often conducted at the bar. His religious beliefs barred him from playing on Sunday - thus ruling him out of the World Cup semifinal against Wales. While integral to the wonderful Auckland and All Black era that followed the 1987 World Cup triumph, he never seemed part of the increasingly powerful cabal of players who ran the show.
A rugby world not always enamoured by the unsmiling giants of All Black rugby was more than happy to welcome this newcomer. Jones was admired and cherished by one and all.
The fabulous Lions wing Gerald Davies - writing about the 1987 tournament - described Jones as having "all footballing skills and clairvoyance in anticipating where he should be".
The one-sided 1987 World Cup final was a day for All Black loose forwards to excel. Jones initiated the victory march against France, swooping for a try after a Fox drop goal attempt was charged down. A Jones break led to the All Blacks' second to captain David Kirk, which in turn led to Kirwan's match-sealing try. The All Blacks were never going to lose this match, and certainly not with Michael Niko Jones roaming the field.
A statue of Jones scoring his first World Cup try will greet the crowds at Eden Park. By a happy coincidence, history and genius met on that day, creating the perfect moment to be cast in stone. But significant World Cup moment or not, Jones - the essence of rugby at its best - is the perfect player to be immortalised in that way.
1987
Video: Great World Cup moments - 1987
In the beginning: Remembering our last victory drink
How we won: The All Blacks - Getting the nation back into black
Setting the scene: Long road to global rugby supremacy
A sending off that made Wallaby history
All Black memories: 'Dawn of a new era'
Tournament star: Michael Jones - Keeping up with Jones
Tournament action: Fans' lukewarm start fast turned to fervour
1991
Video: Great World Cup moments - 1991
How we won: The Wallabies - Defeats led to success
Aussie's winning mindset
'Beaten by a better team'
Tournament action: Fitter, faster England level the playing field
After long string of wins it was a bridge too far
Tournament star: David Campese - Campo's golden touch