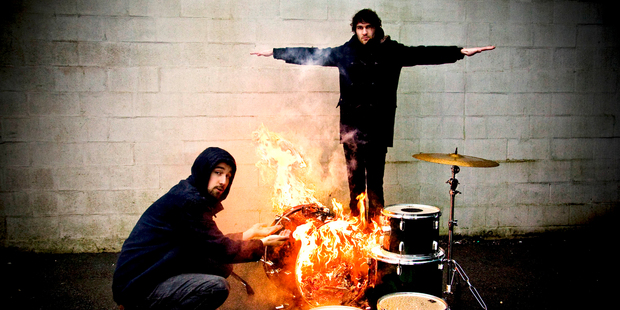 Four years ago David Prowse and Brian King of fiery Canadian noise-makers Japandroids were fed up with the lack of interest anyone was showing in their music and decided to call it quits.
It wasn't an easy decision, because they had played many shows and whipped up many rock 'n' roll storms at venues around their hometown of Vancouver and beyond. The thing was, they were going nowhere.
"At the time we decided to start turning things down on this band, we'd accomplished a lot by our standards," explains Prowse on the phone from his hometown, ahead of playing Laneway next week, "but we were kind of in the same place three years into the band as we were at the beginning.
"We were playing the same bars we had been playing in Vancouver and whenever we went out of town we were still playing to nobody," he chuckles.
They even had their debut album - the intense, noisy, and often reckless-sounding Post-Nothing - ready to go, but no one wanted to put it out.
The pair, who share a love for bands such as 60s Seattle garage act the Sonics and hardcore heroes Fugazi, through to the Who and Bruce Springsteen, were about to self-release it when they thought better of it and disbanded.
However, some of their last shows were at the Pop Montreal festival, where they were - finally - discovered. First, they signed to record label Unfamiliar Records off the back of their performances, then a Canadian journalist, who happened to write for influential music website Pitchfork, gave the band a glowing review. Pitchfork called them to say they had heard about Post-Nothing and asked if they could post a track on the site.
"We were like, 'Yes, we've heard of your website and yes, you can post one of our tracks on your website'," says Prowse with a laugh.
They were back in business and, after doing a little more soul-searching among themselves, they resolved to keep going. Which is just as well, because the world might never have heard Post-Nothing and, worse still, last year's follow-up Celebration Rock.
The latter is just as noisy, but more alive and scorching than their debut, with single The House that Heaven Built and their steely and distorted cover of the Gun Club's For the Love of Ivy perfect examples of the duo's intensity and power.
They play loud, volatile music, and it's the sound of a band that's about to fall apart but never does. And that's what makes them such a visceral live act.
But though playing live comes naturally to the pair, Prowse says songwriting does not. Celebration Rock was a particularly challenging album to make, with the pair holed up in the recording studio on and off for a year.
"Songwriting for us is pretty hard work and we have high standards for ourselves. But I don't think either of us are Ty Segall-type people," he says, referring to the prolific American songwriter.
"It seems like he just sits down and in 10 minutes he's come up with another great song - he's just constantly putting out new material. But it doesn't come that easily for us and it's something we have to really grind away on.
"The next album will be easier, I'm sure, but it will never be easy. And I think for us it's fine that it doesn't come easy. We want every song to be as strong as it can be and that just means it's going to take some time and that's okay."
They started gaining a solid fan base during the tour for Post-Nothing, but following the release of Celebration Rock mid-last year, their popularity has climbed to a whole new level.
He's not sure why, but says it has a lot to do with the fact their debut flew under the radar for many people because of its chequered release history, whereas Celebration Rock was released around the world in one hit.
"And I think it's a better record too," he says.
Celebration Rock is also a much more accessible album, because even though it's just as rowdy and gritty, it's got more of a pop sensibility to it.
"We knew a lot of people liked Post-Nothing, and we thought they would all like Celebration Rock, but I don't think either of us thought it would be an introduction to our band for so many people," he says.
"It turns out it has been, and we didn't think that would be the case, but it's wonderful."
Who: Japandroids
Line-up: David Prowse (drums/vocals) and Brian King (guitar/vocals)
When and where: 5.50pm, Cactus Cat Stage
Listen to: Post-Nothing (2009); Celebration Rock (2012)
- TimeOut