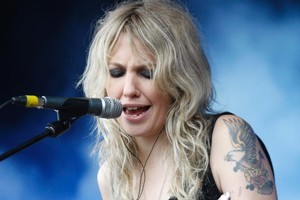 When the music started, Tim Coffey was sitting at his computer in the lounge of his 48sqm second floor apartment.
It was hot - 25C or so - and the old council flat on Greys Ave doesn't have air conditioning. Open windows are a must on a hot day.
Then the "noise" started.
It didn't bother Coffey so much at first. But as time went on and the volume increased, his blood started to boil.
Rifling though council agendas and minutes (as he does) offered no relief from the psychedelic pop of Ariel Pink's Haunted Graffiti being piped into his living room.
Neither did moving to the kitchen for a cuppa-the noise in the street-facing kitchen was worse.
The dulcet tones of Radio New Zealand's Concert Programme couldn't mask the noise.
"It went on and on and on and on," he says. "I can't begin to describe the exasperation. A hot, sweaty, unendurable sound from which there was no escape."
Down the road, the source of Coffey's consternation was thumping away, in a riot of colours, at Aotea Square. It was the Laneway indie rock festival - and it was loud.
Friction between those who want to party in the city, and residents who baulk at constant noise, is ramping up around New Zealand.
And noise complaints are escalating: they jumped 10 per cent in Auckland last year.
The issue came to a head with Laneway, with many complaints about its duration and excessive volume.
Coffey, who lives on the second floor of a Greys Ave heritage apartment, was one of the complainants about Laneway. He also just happens to be chairman of the CBD Residents Action Group.
"We're not party poopers, but I had to endure 10 hours of untoward noise," remonstrates Coffey, 64.
"There's nothing wrong with having events. They can have unlimited events up to 65 decibels. You can't tell me that 65 decibels is not adequate for people in the square."
Our cities are getting louder - and CBD residents are cranking up the volume of their complaints in response.
Flex Webster, who attended the Laneway Festival, feels that Coffey's attitude is symptomatic of an oppressive anti-fun, letter-of-the-law mindset that is taking sway in the city.
"From a concert-goer's point of view Laneway wasn't overly loud, and my ears weren't ringing the next day. It was obviously at a fair level but come on - it's a rock concert! I don't see cause for complaint."
Webster, 30, has struck a wall several times recently while DJ-ing, having to move from Upper Queen St venue
Khuja Lounge because "the bar isn't allowed loud bass". Another inner-city venue, Galatos, off Karangahape Rd, turned the low bass sub-woofers off mid-set due to noise complaints.
"This is becoming more of a problem, and is definitely affecting what I'm doing," he says. "I think if you're going to live in the city, you need to be tolerant of these things."
That's a sentiment unsurprisingly shared by Splore-City music festival director Amanda Wright, who echoes the sentiments of many inner-city revellers the Herald On Sunday canvassed: if people don't want noise, they should go and live in the country.
Unfortunately Splore bore the brunt of Coffey's anger at Laneway. It was meant to be held in Aotea Square-but after the Laneway complaints, it was forced into the clammy confines of the Auckland Town Hall, where it played to a tiny audience.
It was meant to be summer fun in the city but, derailed by an 11pm curfew, one media observer likened it to a Blue Light disco that no one bothered turning up to.
Inner-city dwellers must realise that their environment is going to be noisier than the suburbs, if mercifully devoid of lawnmowers. But how much noise is too much noise? And when does living among the ruckus become impossible for one's health and sense of wellbeing?
While Wright considers the city "draconian in its rules and bylaws" regarding events and noise, Coffey disagrees.
He says that if people can't have the "quiet enjoyment" of their homes, they have the right to take action.
The district plan allows only for a certain number of "noise events" in the city, and that's the limit to which Coffey and his cronies are holding fast.
Wright complains that Aotea Square is allowed only six noise events each year, and that the two nights of Splore- City was to be counted as two events.
"Those two, combined with two for Laneway and one for the Diwali festival would have left only one noise event available for the rest of the year."
Consequently, she says, it's unlikely they would put on another outdoor event in the city. "It's really, really restrictive to do something in the CBD, and an incredibly nerve-wracking experience"- knowing an event could be shut down after so much effort and expenditure.
Inner-city noise-and pleasing both inner city dwellers seeking peace and revellers seeking fun - is a big issue for the new Supercity council, and its leaders know it.
Licensing and compliance manager Carole Todd says the council is researching the noise issue, in an effort to find out why noise complaints have been rising by around 10 per cent each year.
"We haven't done any extensive monitoring over a point of time to quantify if it's getting louder, but we've started in the last few months doing some monitoring at different points around the city," she says.
"Residential and commercial, entertainment precincts ... we're still in the early stages so we can't make any conclusions."
She admits, however, that the city's rapid growth has opened a can of worms. "It's a bit more densely populated now, and people are living a lot closer to each other. This is a recipe for a lot more complaints."
Todd says that city dwellers have a right to peace and quiet, but that cities are always noisier than suburbs, so "noise level allowances in the CBD are higher than in the suburbs".
But is there a culprit in this creeping menace of noise? Could it be that both the city-dwellers and the revellers are victims of the same construction crimes?
Everyone, from the complainants to the council itself, agrees that Auckland has a legacy of poorly soundproofed buildings.
Previous councils actively encouraged people to move into the CBD, which brought on a frenzy of apartment construction.
"When these were built," says AA Regional Building Inspections director Steve Salter, "the regulations were no double-glazing or soundproofing. It's only going to be the new buildings that comply with the [new] regulations.
"A lot of apartments in the city will be noisy, because they don't have double glazing or insulation in the walls [and retro-fitting] wouldn't be financially viable."
Acoustics Enforcement NZ director Bob Russell says he's tested around 10,000 new apartments in the city in the past seven years, on behalf of the council.
His company's remit, however, is to test only soundproofing between apartment walls - not noise from outside.
"That's required under the Building Code," he says. "A lot of inner-city buildings also have resource consent conditions built into them, which say that they will be soundproofed against noise coming in from outside.
"The developer has to build so that people can sleep inside when legal events are going on outside."
Current noise limits inside apartments are stated at 35dB, and 60dB outside.
But Russell reckons there's no independent testing by council of the soundproofing in external walls - it's just ticked off.
Perhaps the most delicious irony of the whole debate is that the new Auckland council looks to have been hoist on its own petard, snagged by its own bylaws.
It wants consent to hold 45 events in Aotea Square during 2011 to tie in with the Rugby World Cup.
These events would involve a giant screen, and an allowance for noise levels up to 85dB - presumably mostly produced from the mouths of screaming All Blacks fans.
Predictably, that riles the CBD Residents Action Group.
"It would be untenable," says Coffey.
"We pay the highest amount of rates.
"If we're going to have to surrender our rights under the district plan we expect rates relief."
Coffey doesn't think the council will succeed in having the rugby events approved. "Time is running out."