Eighties band Children's Hour are no strangers to controversy. Frontman Chris Matthews talks to Scott Kara about reliving those good ol' days at this year's Laneway Festival.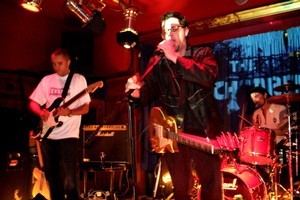 Listening to Stuck Pig - a song from the early-80s by local post-punk terrorists Children's Hour - is as harrowing as seeing and hearing an oinker being slaughtered in real life.
"Yeah, well, we moved from stuck pigs to headless chickens," laughs singer and guitarist Chris Matthews gleefully, referring to the band's transformation into the Headless Chickens in the mid-80s. "But it's funny really, because none of us were farm kids," he adds in his typically wry, menacing tone.
It's not a hard, fast and heavy song, but one that's tense, angry and escalating. And one particular line - that's far too anti-social to print here - got Matthews and the band in a little bit of trouble.
"It was the type of line you'd hear rugby boys say," he remembers, "and at that time I was into subverting common expressions and giving them more meaning - hopefully anyway - than they otherwise would have. I guess it was probably a bit gratuitous but it did get a lot of reaction from some people."
That's Children's Hour for you. They may have only been together for two years from 1982 to 84 and released few rcordings, but they played four national tours, including Flying Nun's Looney Tour with the Chills, and corrupted many minds and souls along the way.
Fuelled by LSD ("there was a lot of it round in the late 70s and early 80s"), speed, and beer ("we definitely drank a lot more beer than anything else"), and influenced by the music of Killing Joke, Joy Division, and the Fall, and local bands the Gordons, Nocturnal Projections, and Foetus Productions, Children's Hour came up with a searing and often deranged, post-punk sound.
"The Gordons were a touchstone for us. Seeing them at an Auckland uni gig in 1980 would have been a huge epiphany for me, I would think," says Matthews.
And as well as songs like Stuck Pig, there were tracks like Creeping Flesh and Slaughterhouse, and other more savoury yet no less menacing ones such as Burning Boats and the beautifully churning Caroline's Dream.
It was Burning Boats - a love song Matthews wrote about a girl who never reciprocated his love for her - that played a key role in the formation of Children's Hour.
The story goes that Matthews wrote the song when he was still playing drums in his "power pop" high school band the Prime Movers. In late 1981 they played a double bill in Auckland with Nocturnal Projections, a New Plymouth band led by brothers Peter and Graeme Jefferies.
"We found we were of very like minds in terms of musical taste and Peter offered to play drums on Burning Boats so I could get up the front of the stage and sing it - I'd never done that before.
"And after the gig I ended up going back to their place in Ponsonby and moved in because I didn't have a place to stay at the time."
It was here Matthews met his great mate Johnny Pierce (who committed suicide in 1986), with who he would form Children's Hour along with Bevan Sweeney and Grant Fell.
"For about two years all we did pretty much was sit around, talk about music, make music, talk about making music, or listen to music. And drink, take drugs, listen to music, play music, listen to music again ... Those are the things you do when you're 18."
They started writing songs, which entailed rehearsing at full volume and "generally what ever happened ended up being a song" The band's first show was at the Rumba Bar in Auckland on Christmas Eve in 1982.
"I had black nail polish on and a fake fur coat I used to wear a lot."
But Children's Hour was short-lived and Matthews reckons it was because the band's confrontational and gratuitous musical approach had runs its course.
"We became known for being a really dark, black bad-arse band and it seemed like we had to trump ourselves to come up with something that was even darker. Personally, I wanted to start writing different kinds of stuff.
"We were really, really good at doing one thing. And we weren't very subtle most of the time. It was great while it lasted, and it was a bit like a f****** soap opera a lot of the time, because there was always shit going on. It seems like two years was actually probably just about long enough, really."
They reformed in 2005 for a series of shows to coincide with the release of Looking For the Sun, a collection of live Children's Hour tracks from 1983 and 84.
But Matthews says adamantly that Children's Hour will only ever be a nostalgia trip.
"We're never going to get back together to write new songs or make a new record, but in terms of nostalgia it's quite good. And the last time we played it was so easy to walk back into the practice room and play all those songs again. I was a little worried we might not be able to summon enough teenage angst, but it seemed to come quite naturally after all those years," he cackles.
LOWDOWN
Who: Children's Hour
Where & when: Laneway Festival, Aotea Square, Monday. 1.45pm, Penny Lane stage
Listen to: Looking For the Sun, a collection
-TimeOut