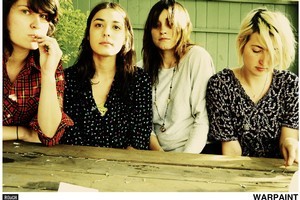 Pretty, mesmerising, and discordant. That's Warpaint for you, and according to 30-year-old singer and guitarist Theresa Wayman that pretty much sums up her and her bandmates too.
"That's how I would describe each of us," she says on the phone from her home in Los Angeles. "There is this calm, pretty side and then there's this chaotic, wild side. And we have always approached playing music by being who we are and doing what comes naturally. All of us have had that perspective on playing that, 'we're not going by any rules'."
Wayman, along with fellow singer and guitarist Emily Kokal, bass player Jenny Lee Lindberg and drummer and keyboardist Stella Mozgawa, play the Laneway Festival. Along with the likes of Deerhunter and Ariel Pink's Haunted Grafitti, who are also on the Laneway bill, Warpaint were one of the most talked about bands of the last year thanks to debut album, The Fool, and songs like the melodic and breezy Undertow and the sprawling and trippy Majesty.
"That song was one we kinda tripped out a bit on in the studio," she says of the latter, "and I think all of us lean a little bit towards electronic music, and 90s trip-hop, and that comes through in that song".
But it's taken a while for the Los Angeles all-girl quartet to make a name for themselves having formed way back in 2004. And it's their uncompromising approach, and the intriguing and at times odd music that they come up with, that has a lot to do with getting recognition.
"We've been together for a really long time but we didn't really have the desire to find some niche that we could fall into and play music like that and know that there are going to be a bunch of people who want to hear that," says Wayman.
"We really wanted it to come from our hearts and our place. So we just allowed ourselves to take our time.
"We knew one day we would travel and be playing shows but it can be a natural cause and effect and if you just play good music people will come and and listen."
The turning point, says Wayman, was signing to iconic indie label Rough Trade in late 2009, going on their first tour around the same time, before starting to record The Fool a year ago. "It was a wonderful dream come true because we had been working at it a long, long time and that was the point where we had to start believing in ourselves," she says with a nervous chuckle. "And now we're sustaining ourselves somewhat monetarily," she laughs again.
While the band as a whole write the songs, the vocal and guitar duties and much of the initial songwriting is shared by Wayman and long-time friend Kolal.
"I've known her since I was 11," she says. "It's comforting. I know exactly who I am with her and I know who she is and we're really psychically connected musically. It's never been an issue, and I can play something on one of her songs that she loves and vice versa."
LOWDOWN
Who: Warpaint
Where and when: Laneway Festival, Aotea Square, Jan 31, 4pm
Debut album: The Fool (2010)
-TimeOut