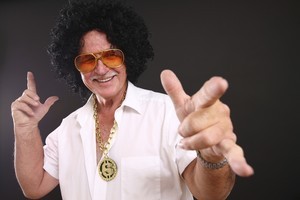 The day started badly when I saw that pseudo-farmer decked out in fashion swandri on the TV ad this morning explaining why he traded in gold bullion.
Get back to your fake flock, I thought, we need people who can earn this country some real wealth not more useless commodity traders.
My confidence slipped, I double-dipped as BNZ currency strategist Mike Jones detailed the prospects for the "ailing" NZ dollar.
But, suddenly, the Savings Working Group cut through the currency noise with its interim report. Not that there was much good news here either but at least it was honest.
"The bottom line is that New Zealanders collectively have been spending too much and saving too little, using large amounts borrowed offshore to fund new investment," the report says. "Its credit is about maxed out. It's time to get real."
The choices are not pleasant, according to the Savings Working Group (SWG) report, which was bursting with analogies to illustrate the direness of our situation: "It's akin to standing on top of a crumbling cliff, uncertain of the exact risk and needing to step back quickly to reduce the risk... This is akin to a choice between taking unpleasant but effective medicine now, or rejecting the medicine and taking the risk of life-threatening surgery in the future."
The report offers a number of medicinal solutions of the cod-liver oil variety: cut consumption 3 per cent; slash government spending etc.
The SWG also prescribes some longer-term tax drugs that could alter the hormonal balance of New Zealand investors.
For instance, extending the PIE concessions to other forms of investment, which the SWG says may not lift the overall quantity of savings "but should materially improve the allocation of saving across different classes of investment".
And it made a big plug for cutting taxes on retirement savings, which will be critical if the government, as reported, intends to slash the KiwiSaver incentives.
"In most countries, earnings on retirement savings are tax-exempt, but not in New Zealand," the report says. "This taxation of returns on retirement income over time heavily cuts back the returns to saving. The SWG considers that there should be a close examination of this issue, in a more comprehensive policy context."
The SWG's full report is due at the end of January next year and should expand on its practical solutions to save New Zealand.
In the interim, here's another quote to get you in the Christmas mood:
"The bottom line, though, is we've had the fun, the big spend-up, bought overpriced houses and farms, and a lot of bling," the report says. "Now, unfortunately, it's time to pay and lay a more secure foundation for future sustainable wealth".
Does gold bullion count as bling?