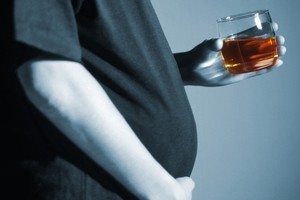 Sometimes, there's nothing more guaranteed to bring you down than reading the Sunday papers.

There, amongst the positive stories of good Samaritans, the innocuous gossip and the recipes comes a story that is so shocking it jolts you into certain depression.

It's not a toddler being kicked to death, or a nine year old beaten and starved this time, but an unborn baby being trashed in-utero. This weekend came the news that a lawyer, Tony Bouchier, had recently refused to seek bail for a drug-addled client - six months pregnant - in order that she be kept away from the garden shed in which she lives, surrounded by beer bottles, petrol cans, and hypodermic needles.

It is great that this woman is kept from doing herself even more harm, but for her unborn baby, it is already far too late. The child will have already been exposed to street drugs, methadone, and alcohol amongst other things. Certainly no nutrition to speak of.
There may be a miracle and the child born healthy, but even from this distance there's an almost certain disaster waiting to happen - fetal alcohol syndrome, drug addiction, all manner of deformity and disease a probability.


The woman has already had two children removed from her. This current child will also be removed by CYFS as soon as it is born. But who will want it?

Sorry to harp on this subject again, but this woman needs to be strongly coerced into being given contraceptive implants, if not sterilised. How many completely hopeless wards of the state does this woman need to bear before someone uses common sense?

Christine Rankin is quoted in the paper as praising Mr Bouchier's actions for keeping this unfortunate woman in detention, calling him a "hero". He is a hero for keeping this woman housed, admittedly, although it seems unlikely that prison is the right place for her. She is an addict and mentally ill, not to mention pregnant - let's see her first placed somewhere where she can be helped.

But what I would like to see is Rankin, 'child advocate', stand up and say 'how can we prevent children being born to such women in the first place'?

That is the real child advocacy. If she tackled this thorny issue, then she'd also most certainly have to be considered a 'hero' too.