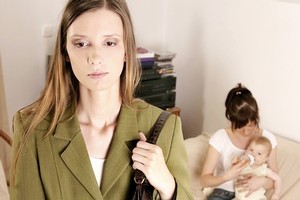 It seems hard to escape the conclusion that the UK government has opted, in effect, to end any fiscal advantage to staying at home with young kids.
Over a million families will lose child-benefit payments from 2013 because they fit into what is called the UK's "high earner" bracket, where an earner in the household makes more than £43,875 (NZ$92,900).
At present the benefit is paid to all mums, and is a treasured artefact of England's post WW2 welfare system.
To even a causal observer of the British political system, it has been easy to see that childcare benefits would most certainly be the in firing line under the new conservative coalition government.
A constant barrage of press reports about whole families living on benefits, kids owning all sorts of high-tech electronic gear and mothers complaining the councils weren't moving them fast enough into fancier digs to accommodate their growing broods, have set the minds of many of the middle class against the high-taxing, high benefit bestowing Labour government way of doing things.
The new Government needs to save 83 billion pounds by the year 2014, and these first cuts to family allowances will only slash a billion pounds from the budget. It seems certain that cuts to the family will go even deeper at some point.
One suggestion constantly raised is cutting off the number of children the state will pay towards - with two being the number often mooted as reasonable.
It makes you wonder if our own Government is gearing up to do the same - albeit that fewer New Zealand families receive government allowances. Cuts to early childhood education could be the first step to wider cuts in Working for Families and the like.
I think that in New Zealand there is still an acceptance for mothers with young children to be at home, but you do wonder for how long society will consider it has a financial role to play in this time of a citizen's life.