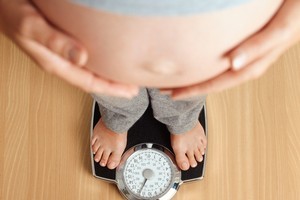 When you have to go in for minor surgery, and you have to remove all your jewellery, and it takes you half an hour of very painful exertion to do so because your blasted fingers have got so fat, you could take that as a sign to take action.
When parts of your anatomy move independent of your core body when you make the most minor movement, ie. reaching for a cup to make coffee in, you could take it as another.
And basically, when the scales show you've put ten kilos on in the past three years, you really do have to do something about it, because at that rate, if you live to 65 you'll add another whole person's worth of weight to your overburdened 5'3" frame (if you're me).
Like many women, I have piled on the weight after my second child. For the first child - who admittedly only got to six months and whose pregnancy and subsequent stay in neonatal intensive care saw me actually lose weight - the body, even one as unruly as mine, bounced back into it's regular shape.
After the second, it was a different story.
Even without my mother's death, multiple miscarriages and two delicious bakeries right next door to me, I reckon I would have expanded laterally. And I noticed it happened to everyone else I knew who had had two children too.
It's easy to explain: lack of sleep = tiredness = eating to keep yourself awake + needing easy, calorific food to stay awake + no time for exercise = porking up, big time.
Recently I kept hearing that many of these same women had signed up to join Weight Watchers, Jenny Craig, or similar schemes.
I initially scoffed at this, because it reminded me of the 80s when everyone - including my mother - did these diets (as well as the Vogel's bread diet, the cabbage diet, the South Beach diet) constantly, and with erratic results.
However, I then realised that I was, in fact, about the age my mother was when I became aware of her interest in keeping weight off.
It's a sad fact of life that many girls grow up in households where their mothers struggle valiantly with the flab and, despite the fact they are supposed to be happy with their bodies, can not help but take on the message they are given - which is that grown women's fat deposits are something to be shunned at any cost.
So this week I signed up to Weight Watchers. I need the boot in the butt that only spending a significant amount of money can produce.
I hope to wave goodbye to late night sandwiches, coffee and cake at morning tea time, and hoovering up every remaining morsel from my children's plates during dinner.
Wish me luck!