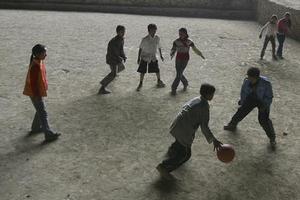 An interesting story out of the UK this week suggests that teachers can guess the "naughtiness" factor of a child based on their name. (Read here too about the "brightest" names and the names found commonly attached to the most popular kids.)
A third of 3,000 teachers surveyed helped researchers draw up a 'Teachers Pet and Pest Name Chart'.
Red alarm names for boys include Callum, Connor, Jack, Kyle, Liam, Jake and Brooklyn - although boys with many of these names are also amongst the most popular in the class, the survey suggests.
For girls, Chelsea, Aleisha, Casey and Crystal were trouble markers, while Jessica, Brooke and Demi were also problematic.
I do remember one naughty Crystal at my school as a child but none of the other names would necessarily ring alarm bells for me, a non-teacher, as they are distinctly modern.
Demi Moore was a frizzy-haired, buck-toothed budding actress with strange eyes who I don't think any parents would be immortalising, and the only Jessica that had any prominence I can remember was Jessica Rabbit.
The current study strongly linked naughty names with popularity (and popular names were naughty names and belonged to popular children).
Can we assume from this that cool parents pick up on trends, name their kids with the cool name of the time, then boost their offspring's risk-taking, attention-seeking, egocentric behaviour in the way they parent them?
Conversely, would uncool parents give their kids unusual names or just straight out dweeby names, damning their children to a lifetime of wall flowering?
I consider myself to be solidly in the unusual name camp, for reasons you may well guess.
Diattima is my actual first name, a name so incomprehensible to most people that I got called everything under the sun except it (Dit-ma, Die-a-teema, Dee-Dee etc). Pretty a name it may be, but mangled it certainly was, and it was absolutely not cool in the days when Lisa, Rachel and Stephanie were the shiz.
Was I marked out for life as an oddball? Probably.
So how important are your choices of names?
American studies have consistently shown that very unusual spellings and certain other name choices that are common in black communities can hinder a child throughout his or her life (the Nekysha, JaQuana, Lahquan type names).
Some versions seem to be creeping into New Zealand as well (Aaliyah, for example, or Kinisha) on top of the more bizzare, as in Midnight Chardonnay and Number 16 Bus Shelter. Yes, absolutely true.
So, do our naming choices affect the future path of our loin fruit?
And if so, how will the current huge crop of Sophies, Stella/Ella/Bellas, Jacks, James' and Williams fare as a result?
- Dita De Boni
* Dita is now on Twitter, follow her Keeping Mum feed here.
Photo / Getty Images