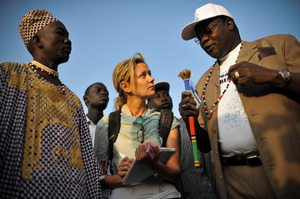 After leaving her childhood home in New Zealand to pursue a globetrotting career as a war correspondent, Rebecca Hamilton should have enough challenges. The 34-year-old has succeeded in turning the attention of the world to the plight of the people of Darfur, but she has never been able to solve her toughest journalistic assignment: tracing her biological father. Hamish McKenzie reports from Washington DC.
The fourth floor of a university gymnasium in Washington DC seems an unlikely venue for Rebecca Hamilton to be moderating a panel about genocide. But here she is, in a room the size of two basketball courts, sitting on stage with four experts on mass atrocities.
Hamilton, a New Zealander who speaks with an Australian accent that she gained after moving to Melbourne in her teens, is dressed in a dark trouser suit. Blonde hair drapes her shoulders and from her neck hangs a slender finger of greenstone.
She is here at the Clinton Global Initiative's annual conference for university students, grilling actress Kirsten Bell about Invisible Children, the activist group famous for producing the viral video Kony 2012.
The video attracted attention and criticism in equal measure last month for its slick but oversimplified account of war crimes in Uganda.
Round tables covered in white tablecloths fill the room and there's a smartly dressed student on every fold-up plastic chair. High on the cinder-block wall in the back corner, a dormant digital scoreboard looks down on the crowd.
After grilling Bell about the costs and benefits of Kony 2012, Hamilton sums up the session by saying awareness alone is not enough to quell humanitarian crises and that we have to get beyond the thinking that America alone is responsible for solving the world's problems.
Hamilton, who is 34 and now lives in New York where she works as a reporter for Reuters, is an authority on this subject.
While she was a law and public policy student at Harvard University, she visited Sudan several times and helped form the Darfur Action Group, which raised awareness of the government-sponsored genocide against non-Arabs in the western part of the country. After a couple of years giving speeches about Darfur she decided to write a book, hoping it would be a story about how public outrage prevented a repeat of the 1994 genocide in Rwanda.
Called Fighting For Darfur, it was published last year and has been lauded by critics for its detailed account of decision-making inside and outside the corridors of power as various groups tried to end the violence. However, it is not a happy tale.
The bid for a solution has won high-profile backers, from the halls of the United Nations to Hollywood.
Just last month, A-lister George Clooney and his father were arrested at a protest outside the Sudanese Embassy in Washington.
But despite the efforts of legislators and advocacy groups such as Save Darfur, the root of the region's problems remains unresolved.
Hamilton, who once worked for the International Criminal Court as a prosecutor's assistant, has spent many months in Sudan, working with internally displaced refugees, conducting research for the book, and reporting for the Washington Post on the south's recent secession.
More recently she gained attention for an article she wrote about her father that was published on the New Yorker magazine's website last month.
Her dad, who died of cancer when she was just 9, had left her a tape that he recorded from his hospice bed. During her last trip home she found it in her mother's garage, packed away in a dusty box. It took her months to build up the courage to listen to it.
"About 30 seconds in, I became aware of a raw, repetitive dirge," Hamilton wrote. "I knew this sound from the Sudanese refugee camps I'd worked in. It's the sound of women rocking back and forth, mourning the loss of their husbands, their children.
"It took a few moments to register that, this time, the sound was coming from me."
There was an extra layer of poignancy to the story that Hamilton left unmentioned. This was the second father she had lost. He was her adoptive father. She has never known her biological father, and with the dad who brought her up gone, the search for her natural father may be her most challenging journalistic quest yet.
THE FIRST eight years of Rebecca Hamilton's life were idyllic. Her dad, Eric, was an entrepreneur who owned a dairy and managed a restaurant at Auckland's Museum of Transport and Technology.
Her mum, Deanne, was a nurse. She attended Kristin School and grew up surrounded by the arts - ballet and singing, especially - and remembers being safe and loved. She recalls happy days at the beach with Popsicles and 50-cent lolly mixtures.
But in her ninth year her life fell to pieces. Her dad was diagnosed with cancer and died just six weeks later. In the same year her mum was found to have Dieulafoy's disease, which causes life-threatening gastrointestinal bleeding. The doctors caught it just in time and, against the odds, she recovered.
Four years later she got cancer and had to have her kidney removed. She almost died of the complications from that surgery.
During these traumatic times Hamilton lived with family friends and realised that, because life was unpredictable, she couldn't afford to rely on anyone but herself.
When she turned 15 she dropped out of high school and moved to Melbourne, where she joined the National Theatre as a ballet dancer. After ending a "challenging" relationship with an older man she moved to Sydney, where a social worker encouraged her to re-enter the education system.
It was around this time that she decided she wanted to find her biological dad. She had known all along that she was the product of a sperm-donor father, she just didn't know who that man was. He had donated anonymously.
"I had this totally honest relationship with dad and he loved me," Hamilton tells me over lunch in a chic Washington restaurant (my choice, not hers) after the Clinton Global Initiative Conference.
"It didn't matter that I wasn't any biological relation - but I still wanted to know where half my genes came from and I sort of always thought in the back of my head, 'When I grow up, somehow this information will be made available to me', even though I had been told that there was no information."
Whenever she is asked why it is important to know who her biological father is, Hamilton has two answers. The standard reply is basic health and safety stuff - she can't tell a doctor a full story about her family's history of illness, for instance.
But a more substantial response is tied to identity. "It's actually more about if you have a sense of where you come from you just have a road map to where you might go," she explains, her left hand resting on her neck.
"It doesn't define the possibilities of who you are but there's some kind of starting point."
With no leads to go on, she decided the only hope she had of finding her father was to do something publicly. So, working with a film-maker who was interested in the issue of donor children, she produced a documentary called Are You My Father? which aired on New Zealand television in 2001.
Five men who had donated sperm in Auckland around the time she was born were DNA-tested to see if there was a match.
There wasn't.
She didn't consider the documentary a failure. "I always said to myself it would be worth doing it if we could get the legislation changed." And indeed, that's what happened.
In part because of the documentary and testimony Hamilton wrote about donor children for MPs, New Zealand went on to pass 2004's Human Assisted Reproductive Technology Act, which ensured that people born from donated embryos or cells could find out about their genetic origins.
"That was an amazing experience because it showed that the system of anonymity had been, at that time, socially accepted and normal and no one questioned it," she says.
"But subsequently, these men had seen their own children grow up and had questions for themselves about what their sons or daughters might look like. For the most part, the medical profession doesn't consider that."
Hamilton says she isn't against donor conception because she sympathises with the plight of people who are otherwise unable to have children, but she does contend that it's hypocritical for people to refuse adoption in favour of sperm or egg donation because they want to have a biological connection to their child. By doing so, they deny that child his or her own biological connection to one of the parents.
As for births that are the result of anonymous donation? They should be banned, she reckons.
"I just think it's wrong from every angle. There are lots of situations in the world where you can't avoid these things, but this is not one of those situations."
IN AN old school report card, a teacher described 10-year-old Rebecca as "stoic". It was a very adult term to describe someone who had barely etched up a decade on Earth, but it also captured an intensity that came to define Hamilton's work in later life.
"The thing I always have really liked about Bec is she's very tough-minded," says her friend Michael Abramowitz, director of the US Holocaust Memorial Museum's Committee on Conscience and a former reporter and editor for the Washington Post.
"She's not someone who's going to just accept a problem. She's not going to just accept anything. She's going to really try to drill down and find out what the truth is."
Another friend says Hamilton had an amazing level of access for her Darfur book, interviewing key figures inside the administrations in the US and Sudan, including former Secretary of State Colin Powell and Sudan's former Minister of State for Humanitarian Affairs, Ahmed Haroun, who is now wanted by the International Criminal Court for war crimes.
"It certainly says something about her tenacity," says Kirsten Hagon, who heads Oxfam's international advocacy office in New York, "and the fact that she somehow manages to charm people and also is perceived as very non-threatening. That's one hell of a gift."
Hamilton applies the dedication demonstrated in the search for her father to her quest to help others, particularly in Sudan.
It is a way of working that has sometimes landed her in tricky spots, such as the time she was arrested while interviewing people from southern Sudan in the country's northern capital, Khartoum.
Police swept into the area to round up people who had been brewing their own beer, which is forbidden by the country's strict sharia law. They wanted to know what she was up to.
"It was an arrest not in the 'you are charged with something' sense," she says, looking back with a mixture of wry amusement and vague horror. "It was an arrest in the 'there are two men with AK-47s who are asking you to go with them' sense."
Over the night, she was taken to two "ghost houses", innocuous-looking apartments in which dissidents are held captive and sometimes tortured, before her translator eventually negotiated their release by bluffing and saying she was a personal friend of an advisor to Sudan's President.
Since the arrest, Hamilton hasn't been allowed to return to the north, officially known as the Republic of Sudan. When she reported on the historic referendum leading to last year's separation of north and south, which had been embroiled in a decades-long civil war independent of what was happening in Darfur, she had to work from South Sudan.
An enduring scene from voting day remains vivid in her memory. She and a photographer were just about to leave a polling station that had been set up in a bombed-out church. As they were walking away, they noticed a young boy pushing a wheelbarrow up to the station.
"We got a little closer and saw that there was a woman in the wheelbarrow who was writhing with pain. Her legs were totally wasted away, they were curled up underneath her," she says.
"Her family came over and explained that she was really, really sick. They were worried, in fact, that she was dying - but she refused to go anywhere until she first had cast her vote."
The waitress comes up to offer us dessert. Hamilton scans the room. Men in crisp shirts and women in perfect makeup chatter happily while anonymous wait staff fill their glasses with pulpy orange juice.
Hamilton's next words come with exasperation: "And to think of all the people in this country who don't vote."
Just as Hamilton's personal mission to find her biological father remains unresolved, so too does the situation in Sudan.
The government-sponsored killings continue in Darfur, even though the UN says violence is down.
The situation is looking even worse between the north and the south. The two countries have been clashing in disputes over South Sudan's oil.
Experts fear they are on the brink of all-out war. Part of the problem, Hamilton says, is that because the international community was distracted by Darfur, not enough attention was paid to the the political transformation leading to South Sudan's secession.
"The referendum happened," she says, "but all of the things that would have been needed for a successful North and South Sudan to exist haven't been realised."
The gravity of the situation can be summed up in stoic Hamilton's final words on the matter: "I'm worried."
Did you donate sperm at National Women's Hospital, Auckland, around July 1976? Email news@hos.co.nz