The news is all good for Labour, but there's a long road ahead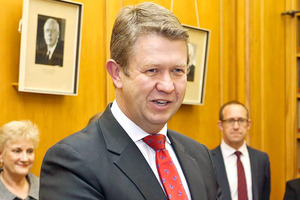 When it comes to commenting on opinion polls, there is a simple rule that all politicians should follow. Don't do it. It is a mug's game.
When the polls are flattering to you or your party, you are in danger of sounding self-congratulatory. When your ratings are plunging through the floor, you just sound desperate.
Best to let the polls speak for themselves - as David Cunliffe did when asked for his reaction to this week's surprise-filled Herald-DigiPoll survey.
He would not be human if he was not cock-a-hoop at Labour's seven percentage point surge in support. Wisely, he did not let it show.
Predicting the polls would "bounce around" in the months ahead, Labour's new leader simply noted that if the poll result was replicated at next year's election, then his party would be able to form a Government. He left it at that.
He did not need to state the obvious - that the poll is significant as a huge morale-booster for the centre-left in two respects: first, in intimating (though not proving) that Cunliffe becoming Labour's leader is making a marked difference to the party's fortunes; and, second, persuading wavering Labour supporters toying with switching to the Greens or New Zealand First that a vote for Labour next year now has much more value.
Of more immediate use to Cunliffe is that the Herald poll has given him an unexpected source of the one thing he prizes now - momentum.
From the moment he put his name forward for the party-wide election of the new leader, Cunliffe has sought to jolt domestic politics out of the National-controlled status quo by blitz-krieging his way into the public's consciousness.
People stopped picking up the phone to Labour; Cunliffe is hell-bent on getting them to start listening to Labour again.
To that end, Cunliffe has a schedule which should keep him almost constantly in the public eye before Christmas as he heralds a "new beginning" for Labour, a phrase which implicitly acknowledges the public got it right, while self-consumed, introspective Labour got it wrong.
The first step in transforming the party's tired, lacklustre image into a modern, dynamic and revitalised political brand came last Monday when Cunliffe unveiled his shadow Cabinet.
There is an important speech to the Council of Trade Unions' conference early next month which will be followed by Labour's own conference in early November, then the Christchurch East byelection campaign.
This week's Herald poll is a bonus. Conducted after Cunliffe became leader two weeks ago, the survey's findings beg the obvious question of whether there is a direct link between his taking over and the sudden lift in Labour's support and a corresponding drop of five percentage points in voter backing for National.
If the dramatic closing of the gap between the two main parties from nearly 18 points in the previous Herald poll in June to just six points this month was solely down to Cunliffe then he surely would have enjoyed an even more spectacular performance in the preferred prime minister rating than the near 17 per cent he scored.
The poll's respondents were clearly well aware of the change in the Labour leadership. Only 1 per cent of those backing Labour picked David Shearer as preferred prime minister.
But that did not automatically translate into wholesale endorsement of Cunliffe. More than half of those who said they would give their party vote to Labour opted for someone else as preferred prime minister - John Key, Winston Peters, Helen Clark, Phil Goff, Russel Norman or Grant Robertson and in that order.
More than 95 per cent of those giving their party vote to National favoured Key as preferred prime minister.
A chunk of Cunliffe's rating came from Green voters who scored him nearly as highly as Norman - recognition perhaps that the Labour leader will be the prime minister in any governing coalition forged by the two centre-left parties.
If Cunliffe's impact was somewhat subdued, the narrowing of the gap between National and Labour is harder to fathom - especially as the Government (unusually) has had a relatively trouble-free few weeks.
What might be happening is that the wear and tear on National's reputation from various earlier debilitating sideshows and botch-ups is finally showing in the polls.
Voters' attitudes as to how they will cast their vote are slow to change - more so with a Government as pragmatic and unwilling to risk frightening the punters as the current one. So there can be a long lag between cause and effect in the polls. Cunliffe may be the beneficiary of that timing.
What is noteworthy is that in the preferred prime minister rating, Cunliffe attracted support from equal quantities of male and female voters - unlike Shearer, much of whose backing came from women voters.
This is important. Labour has been doing well with women voters, but is missing out with men.
Fed up with the party's continuing penchant for what is politically correct, they have switched off Labour and tuned in to Key's moderate conservatism or found comfort in Peters' economic nationalism and more hard-edged social conservatism.
The Herald poll shows some of these male voters are returning, but not yet in great numbers. It also suggests that having Cunliffe running things is bringing younger voters on board.
Where Cunliffe's presence is making a difference is with the close to 30 per cent of those aligned with the Greens who said Cunliffe's election as Labour leader made it more likely they would consider voting Labour at next year's election.
The same applies to some New Zealand First backers who are now wavering, though to a lesser extent.
It is still early days. It remains to be seen whether other polls confirm the Herald poll and whether it turns out to be the first play in what could be a real election-year game-changer.
The poll's findings are understood to be in line with Labour's polling.
But Labour has been here before. In March, the Herald poll flattered to deceive with support for Labour jumping to more than 36 per cent - just short of the near 38 per cent the party registered this week. Unfortunately for Shearer, who also enjoyed a healthy rise in his own rating, those gains evaporated.
That it might happen again is ample reason for Cunliffe to continue to be cautious and sparing when it comes to talking up opinion polls.