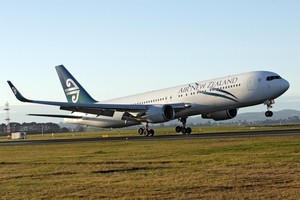 Air New Zealand says it may cut some domestic and international routes in a bid to recoup expected losses from the earthquakes in Christchurch and Japan.
Shares in the airline tumbled more than 10 per cent after the company told the stock exchange yesterday the disasters would wipe out its profit in the second half of the year.
Air New Zealand chief executive Rob Fyfe told Radio NZ the airline was looking at ways to cut costs, including routes and frequencies, to make sure capacity aligned with demand.
The news comes after Air New Zealand last week announced average fare increases of 7 per cent as it passed on the impact of higher fuel costs.
The carrier said aviation fuel had risen from US$114 a barrel six months ago to US$130 recently, adding as much as US$10 million a month to operating costs.
Fyfe said the company was expecting passenger numbers on flights to and from Japan to drop by about 30 per cent, following the earthquakes.
Fyfe, who is in Japan supporting Tokyo-based staff, said a flight destined for Japan on Monday night only had 70 or 80 passengers on board.
"It was a 300 seat aircraft. We had a late cancellation of 190 - a large school group," he said.
Fyfe told Newstalk ZB the airline had taken a lot of cancellations from international customers since the Christchurch earthquake and would be looking at the 1995 Kobe earthquake to see how it affected passenger loadings.
Air New Zealand last month announced it was reintroducing jumbo jets to Tokyo in a move the NZX-listed airline said demonstrated its confidence in the growth potential of the Japan tourism market
An Air New Zealand spokeperson said this week the airline was continuing with its plans for the jumbo jets but was monitoring the situation closely.
- NZ Herald Online / Newstalk ZB