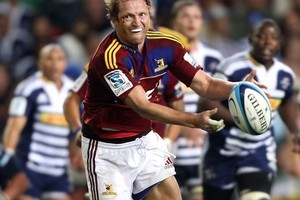 Suddenly rugby didn't seem all that important for Tony Brown.
The 36-year-old has carved out a good career from the game, playing 18 tests for the All Blacks and more than than 150 games for Otago and the Highlanders. He even had a party at Carisbrook named in his honour for the 1999 Super 12 final. But that was all far from his thoughts as he watched in shocked disbelief and anguish at what was happening in Japan.
He has spent the best part of the last seven years in Japan, where he plays for the championship-winning Sanyo Wild Knights team based in Ota city in the Gunma prefecture about halfway between Tokyo and Sendai, where the tsunami's full force hit.
He woke up yesterday morning expecting to do what he normally does before a game - kill time - but ended up glued to what he was witnessing on CNN.
As far as he can work out, the inland area he lives in wasn't too badly effected. His wife and daughter are also in Auckland. But he has no idea about the fate of many of his friends.
He penned countless emails yesterday asking about their welfare but didn't hear back.
"We have plenty of friends in Japan," he says. "I'm just hoping they are all OK. It was amazing to watch and it blows you away how much damage a wave can make.
"I'm certainly thinking I'm pretty lucky to be here [in South Africa with the Highlanders] at the moment and that my family are back in New Zealand.
"Earthquakes are common in Japan. You feel so many that you don't believe one could be so powerful as this one. I just hope not too many people are hurt."
It made an already emotional game for the Highlanders even more wrought. They had wanted to continue their impressive start to the Super Rugby season for team-mate Matt Saunders, who flew back to New Zealand last week after the sudden death of his father.
"We are a pretty committed side and wanted to do well, especially for Matt Saunders whose dad died," Brown said. "It's been a tough week for the team. We wanted to put in a big performance and do it for Matt. We didn't lack for effort but couldn't find a way through."
The Highlanders had their chances in the 18-6 defeat to the unbeaten Stormers, and might have won if first five-eighths Robbie Robinson had had a better night with the boot and Jason Rutledge had been awarded a try when he barged over the line in the first half. But they probably wouldn't have deserved it.
They were outplayed for large chunks by the home side, particularly at the breakdown, and turned over ball regularly.
"The players are very disappointed because the Stormers did to us what we did to the Bulls last weekend," coach Jamie Joseph surmised. "I thought we were outplayed in areas we were strong against the Bulls. They took the initiative and beat us at the breakdown."
There is no shame in losing to the Stormers, particularly in Cape Town, and the Highlanders proved again they will be a difficult proposition. They have a simple game plan based on effort and muscle around the ruck which is easy to read but often difficult to stop.
It needs to be remembered the Stormers were beaten finalists last year and established easily the best defensive record in 2010 conceding just 161 points in their 12 pool games.
It has been a difficult start to the season for the Highlanders and they will be satisfied to return home with one win from two games in South Africa, but their reward is a match against the Crusaders.
"It has been a pretty daunting five or six weeks but we just have to get on with it," Joseph said. "We have had a reasonable start to the competition but it only gets harder, not easier.
"It's good to get the travel out of the way. When you've got a team who finished 12th last season, you don't look too far ahead. We are a week-to-week team. We're not like the Crusaders with 15 All Blacks. We've got one current one and another two trying to get back in. We can't rest All Blacks like the Blues or Crusaders."
That is why this campaign will be so difficult for the Highlanders. They are playing well and with passion and commitment but it's questionable whether they can sustain that over 16 weeks.
Stormers 18 (P. Grant 6 pens) Highlanders 6 (R. Robinson 2 pens). HT 12-6.