Audience involvement in this year's Auckland Arts Festival leaves a pleasant sense of wanting more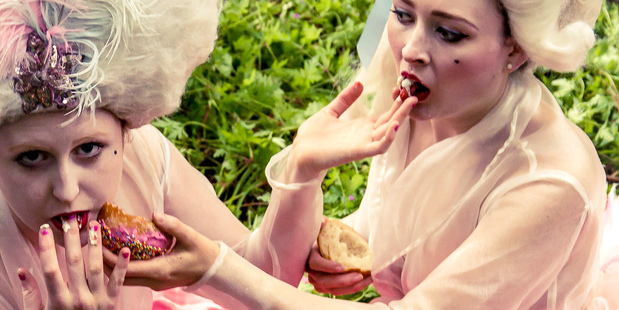 So far, as an audience member during this Auckland Arts Festival and Fringe feast, I have enthusiastically eaten cake, sprinted down a city road, predicted the future with flashcards, sat cross-legged on a school mat, and jumped into a bouncy castle. So much for being a cool, detached and (physically) passive spectator, this is theatre-going as extreme sport; I'll have to start strapping my reviewer's notepad to my arm.
And yet, none of these activities required me to be an individual "volunteer", cringing and hoping I wouldn't be the one hauled up on stage. Instead, either the whole audience was munching, predicting and jumping along - we were a happy herd at Gorge, For Your Future Guidance and Celery Stories - or the entire audience consisted of one person: me (en route plugs you into an MP3 player for a solo experience).
This isn't new, but it's now hogging the limelight: it's "participatory drama" and "interactive theatre", where participation is wholesale and advertised up front. Audience-participants are usually looked after, made to feel special and, unlike the lone "volunteer", not often humiliated.
Significantly, the primary aim is to give each paying participant an immersive experience - how spooky/yum/surprising/fun! - not to put them on show for others to watch.
At the bravest extreme, women attending Nic Green's feminist Trilogy in Britain were invited to strip naked in what participants describe as a joyous celebration of womanhood. In other European examples, whole audiences are given roles: as kidnapped tourists, or children of the infanticidal Medea; they enter mock dictatorships and psychiatric hospitals.
It's no coincidence they're being asked to play children, hostages and patients; if they're being asked to pretend, to act, then giving audiences helpless roles is the easiest way to make them feel comfortable. Unrehearsed people need clear instructions. If the story calls for the actors' characters to direct participants, the make-believe illusion is polished rather than pulled down.
However, the chain of command creates a power imbalance that requires respect on the part of the theatre-makers. A minor jarring note in en route illustrates just how careful they need to be. After over an hour of necessarily following imperatives (turn right, lean against a wall, etc) and being rewarded with a great itinerary, I was asked to sit in a bar and phone a friend to tell them what I was doing. Suddenly, I felt trapped, yet no longer cocooned. For once, this command wasn't for my selfish enjoyment, it seemed, but to give the show free promotion. Would my afternoon interruption be annoying ("you're stuck at work; I'm not, nyah nyah")? What would happen if I didn't comply? What about walkers who had no friends? Why was en route rubbing it in, on their solitary walk?
And yet - more please! Just remember that participants are unpredictable; your ideal audience will never turn up. Theatre 2.0 keeps things fresh and exciting - for us all.