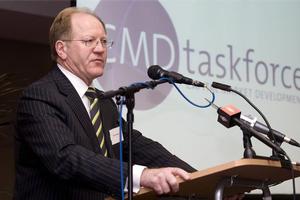 The Capital Markets Development Taskforce(CMD) was a group formed in response to the financial crisis in July 2008. The members include investment bankers, economists and Government advisers.
They released a report in December 2009 .
Members of the taskforce are:
Chair: Rob Cameron
Cameron is executive chairman at investment banking firm Cameron Partners. He has been an adviser in landmark transactions such as Bell Atlantic and Ameritech's purchase of Telecom and the recapitalisation of Air New Zealand.
Adrian Orr
Orr is chief executive adviser at New Zealand Superannuation fund. He was worked devising public policy at the Reserve Bank, and worked as Chief economist for Westpac and The National Bank (of New Zealand)
Matt Benge
Benge is Assistant Deputy Commissioner, Inland Revenue. He works within the police advice division.
Mary Holm
Holm is an investment writer, Herald columnist and has written extensively about KiwiSaver.
Franceska Banga
Banga is chief executive of the New Zealand Venture Investment Fund. She has previously held senior positions at the Ministry of Research, Science and Technology, the New Zealand Treasury, and the Reserve Bank of New Zealand.
Andrew Jackson
Jackson is deputy secretary of the Ministry of Economic Development.
The ministry is represents and advises the government on economic issues related to consumer affairs, small business, technology, energy and tourism.
Mike James
James is deputy secretary at the New Zealand Treasury, where he works in the asset and liability management branch.
Jonathan Ling
Ling is chief executive and managing director at Fletcher Building. Previous appointments include chief executive officer at Visy Recycling.
Rob McLeod
McLeod is managing partner at Ernst & Young New Zealand. He is also chairman of the Business Roundtable.
Gareth Morgan
Morgan is a Herald columnist and chief executive at Gareth Morgan Investments.
Cathy Quinn
Quinn is chair at legal advisory firm at Minter Ellison Rudd Watts. Cathy is also a member of the New Zealand Securities Commission.
Grant Spencer
Spencer is deputy governor at the Reserve Bank. He has previously held senior positions at the Australia and New Zealand Banking Group and the International Monetary Fund.
Scott St John
St John is chief executive at First NZ Capital. St John chairs the Security industry association and is on the board of the New Zealand Institute.
Mark Weldon
Weldon is chief executive of the New Zealand Stock Exchange.
Nigel Williams
Williams is managing director of Institutional Australia, and ANZ Bank