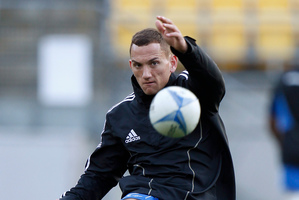 Throughout Super Rugby, there was a sense this year would be about the coming of Aaron Cruden.
A changing of the guard at No 10 felt possible: Dan Carter was labouring away at second five for the Crusaders, while Cruden took his game to new heights with the Chiefs.
But, even after his stunning 24-minute cameo in Hamilton against Ireland, it feels like Cruden could become yet another top-quality No 10 forced to permanently live in the shadow of Carter. Cruden's big break, his succession to the throne, may never come, despite the fact he's obviously matured and developed into a genuine test-class first five.
Unlike last year, there was no major drama when news broke that Carter was ruled out and Cruden would start against Argentina. Cruden has become a tidy, competent and exciting footballer. He kicks well enough, sees the space and is probably the best running first five in the world.
But for all he offers, it's not as much as Carter. Like so many before him, Cruden may have to rely on ill-fate besetting Carter as it did this week.
Or he becomes a regular 20-minute man - sent on to run at tired defences after Carter has done the damage.
It's a tough place to be. Others such as Nick Evans struggled with it but Cruden, despite his undoubted talents, may have to accept that Carter has an iron-clad grip on the No 10 shirt that just cannot be prised open.
A combination of factors have combined to drive out even more from Carter in the past few months. The emergence of Cruden and Beauden Barrett has put the pressure on and he's responded strongly to the internal goal of driving the All Blacks beyond the levels they reached last year.
His quiet start to the year was the calm before the storm: he was imperious against Ireland and his composure and control in those final few minutes of the second test were beyond any other first five in the world game.
While the All Blacks were error-ridden against the Wallabies, Carter was almost faultless. His goal-kicking was impressive, but really it was the ease with which he picked his options and put his side in all the right places that stood out. He does it so effortlessly these days that it sometimes makes it hard to appreciate that he is playing as well, if not better than he ever has.
"I think the challenge that we have put to the group of not only looking at the opponent but looking to ourselves and bettering ourselves is stimulating him," says All Black coach Steve Hansen. "Daniel's been around a long time so it is easy to fall into that pattern of 'here we go again, I'm comfortable'. He's made himself uncomfortable and he's working on his game harder than he's ever worked on it.
"He's not looking into the future, he's looking at the right now and asking 'what can I do better right now?' As a result of that, I think he is playing better."
Carter might not be looking ahead, but Cruden most likely is. Since emerging in 2003, Carter has effectively seen off Andrew Mehrtens, Carlos Spencer, Evans, Luke McAlister and Stephen Donald.
Still only 23, Cruden knows he has time to play the role of understudy. His development won't be stunted by appearances off the bench and occasional injury-cover starts. But for how long will he accept that role? It's one thing to be a No2 with genuine belief of becoming a first choice. But what happens if Carter's star doesn't diminish?
Few of Cruden's predecessors have stuck around for long once they have realised that in Carter, they are competing against the extraordinary - a man who seemingly has no weak points or even blips of form.
He's contracted through to 2015 and would anyone bet against him making it that far? Certainly at the moment, Hansen is cautiously optimistic that Carter, who turned 30 in March, can make it that far.
"At this stage, we have got some senior guys who are looking pretty good. But we have got to look at them year by year and be smart enough to have replacements ready if they happen to fall over.
"Rugby players seem to be a bit like boxers in that they lose their legs quite quickly and once they go, we don't see the same performance. You'd like to think he'll make it but he may not."