Thousands of Americans are being forced to take unpaid leave, while others are losing their jobs altogether.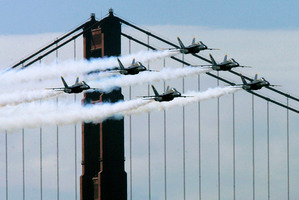 Flights are being grounded, scientific research cut, military operations scrapped and welfare schemes curtailed by President Obama's cuts.
1. Los Angeles, California
The sequester landed at America's airports this week, as the Federal Aviation Administration began implementing the furloughs (unpaid leave) mandated by the cuts. The air regulator has been forced to furlough 47,000 employees, who will lose one day of work every other week. The first round was implemented at the weekend and earlier this week, reportedly causing delays at Los Angeles airport. The lack of air traffic control staff as a result of the furloughs was thought to have played a part in delays at various airports, including those in the New York area, Washington DC and Baltimore.
2. Los Angeles, California
Anyone wanting help from the US District Court in Los Angeles - the biggest federal court in the country - should know that the clerk's office will be closed on Fridays as its employees are down to a four-day week.
3. San Diego, California
In April, the US Navy delayed the deployment from San Diego of two ships in its Pacific Fleet, the USS Rentz and USS Jefferson City. Another vessel, the USS Thach, deployed in January for six months on a drugs-trafficking patrol, was ordered back to port.
4. Marshall Islands
The Pacific islands, which rely on the US Government for 60 per cent of their national budget, are braced for trouble. Already, word is out that 15 per cent of employees at the Reagan Missile Test Site on the atoll of Kwajalein may be laid off.
5. Fairbanks, Arkansas
There is no volcanic eruption in Alaska that goes unnoticed and ash-wary civil aviation is grateful for it. But the Alaska Volcano Observatory says it is being forced to cut back on its real-time monitoring of volcanoes.
6. Sitka, Arkansas
A "closed" sign will soon be hung at the Bill Brady drug and alcohol rehab centre in Sitka.
7. Reno, Nevada Opening hours at the largest adoption centre for wild horses, the Palomino Valley National Wild Horse and Burro Adoption Centre are to be cut. It represents the best hope of a new home for wild horses saved from western ranges.
8. Connell, Washington
Scooteney Park, near Moses Lake in central Washington state, which gets 45,000 visitors a year, says it cannot open the campgrounds because it cannot pay staff.
9. Libby, Montana
This Montana county is being asked to return US$1.14 million of federal money it has already received that was meant to maintain roads to rural schools. 10. Rapid City, South DakotaThere will be no air show at Ellsworth Air Force Base this year. Even though it draws 30,000 visitors the show usually costs the base more than US$200,000 to stage.
11. Stillwater, Oklahoma
The Mission of Hope homeless shelter expects federal support to drop by 5 per cent. All over the country, programmes for the poor and vulnerable are set to suffer.
12. Columbus, Ohio
Steve Nolder, the chief of the public defenders' office in southern Ohio, has resigned to save others at the start of their careers from being axed.
13. Shanksville, Pennsylvania
Summer hours that were meant to start three weeks ago at the memorial to 9/11 victims of United Flight 93 have been delayed until May 1.
14. New York, New York
A judge has delayed until next January the trial of Sulaiman Abu Ghaith, the son-in-law of Osama bin Laden, charged with conspiring to kill Americans because of his alleged role as al-Qaeda's chief propagandist. The public defender's office is not ready because of furloughs.
15. Long Island, New York
Brookhaven National Laboratory's Relativistic Heavy Ion Collider beneath Long Island could be eviscerated or even shut, threatening 900 jobs.
16. White House, District of Columbia
Staff attached to the Office of Management and Budget have been told to curtail use of subscription internet hotspots, while some will be asked to take 10 days at home without pay between now and September.
17. West Virginia
A national programme set up in 1965 to combat poverty is set to lose nearly 600 staff positions. Hardest hit will be West Virginia.
18. Roanoke, Virginia
Homes in parts of rural southern Virginia and Tennessee may soon be deprived of shows on PBS, the public service television, because two transmitters must be shut down.
19. Fort Bragg, North Carolina
Around 84,000 children who go to school on military bases may soon be on four-day weeks.
20. Pensacola, Florida
The entire 2013 season of the Blue Angels, the US Navy and Marine Corps flight Demonstration Squadron, has been cancelled. Thrilling crowds since 1946, the prestigious team of pilots has never before been grounded.
21. Gainesville, Florida
The University of Florida is bracing for the first drop in funding in years, maybe by 10 per cent.
22. Orlando, Florida
Convention destination cities are suffering. A federal training expo for Orlando in May with 7000 attendees has been axed. Independent