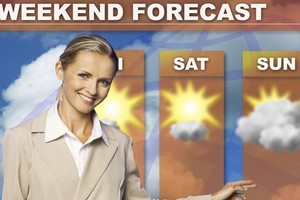 I remember when the weather was innocent and free.
A proper-accented young lady would wave her wand at the isobaric map, making idle speculation about the next day's weather conditions.
Tomorrow it would rain, or maybe it wouldn't - don't they always get it wrong?
It's a different story today. Aside from the wonderful advances in meteorological presentation technology every weather report now carries dark undertones of dread and guilt.
For instance, I'm quite pleased about the prospects of a warm autumn ahead but is that also further proof of man-made global warming?
Global warming, or climate change as it is now more neutrally known, tinges each weather-related news item. Every flood, drought, snowstorm, heatwave and hurricane story must include 'interview with climate-change expert'.
Greenhouse gas theory has moved on from rudimentary chart in '70s science book to widely-held belief - even politicians are taking action that will impose real costs on their constituents.
For example, we have our emissions trading scheme while Australia's PM Julia Gillard last week confirmed her government would put a price on carbon (an atom that until recently has been considered quite supportive of human life).
And whatever you may think about the underlying science - I understand opinions are divided - it's impossible to deny that the threat, or perceived threat, of climate change is having a real world effect.
Investors are beginning to take note.
Late last month consultancy firm Mercer published one of the first in-depth studies investigating how institutional investors might deal with the global warming phenomenon.
In a statement accompanying the report's release, Andrew Kirton, Mercer chief investment officer, said: "Climate change brings fundamental implications for investment patterns, risks and rewards. Institutional investors should be factoring long-term considerations, such as climate change, into their strategic planning."
The report itself, titled 'Climate change scenarios - implications for strategic asset allocation', is a massive 132-page document (don't print it out) aimed at those responsible for large pools of money - super fund trustees, sovereign wealth funds (such as the NZ Super Fund) and the like.
Mercer claims those who contributed to the study represented a collective US$2 trillion.
It looks like it will be mostly fine tomorrow but I wouldn't bet on it.