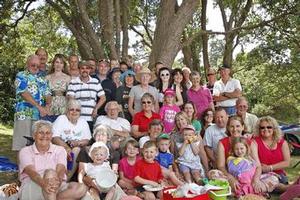 Every January 2nd, at a small bay near Waihi Beach, members of the Gordon and Campbell families get together for what could be one of the longest-running family traditions in New Zealand.
Their family picnic stretches back to the start of the 20th century. Dozens of members of the extended Gordon and Campbell families meet at Anzac Bay near Bowentown in the Bay of Plenty, to rekindle their ties, have a natter or just to bask in the glorious weather on January 2.
Retired Tauranga teacher Margaret Cullen said it started when her great-grandparents Thomas and Margaret Gordon - who had a coach business and boarding house near Waitekauri - would make the long horse and carriage trek to the beach for their summer holiday with other members of what was then a large mining community.
The location changed from time to time over the years, including stints at Waihi Beach and at Orokawa Bay, before the picnic settled at AnzacBay.
"There was always a big collection of family members in the area over Christmas, so we always had family picnics," said Mrs Cullen, 78.
"At first we used to all sit on the sand, but as the older members got a bit older we all moved up here under these pohutukawa. It's a pretty nice spot, as you can see."
Mrs Cullen's twin sister, Lilian Wakefield, of Bethlehem, said there was no formal arrangement to the day. She was expecting about 50 people at the most recent picnic.
"Everybody knows about it, you don't have to be told, you just come and you never know who's going to behere.
"We chat and children go down to swim, we generally just sit down and catch up with family members.
"We have relatives who come here from Auckland, Wellington and Tauranga and some from as far away as America."
She said the foods had changed since the early days of homemade cured and smoked hams, jellied pig's trotters and rabbit pie, to sandwiches, salads and barbecues.
Mrs Cullen was hopeful the tradition would continue: "We still think it's a wonderful thing to do. The Gordon family and Campbell family have been very supportive."