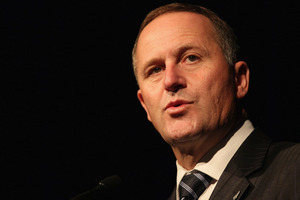 On the face of it, there is merit in the idea announced by the Government this week, of merging four Government departments into one.
The plan was raised in a major speech by Prime Minister John Key in which he referred to a single "dedicated, business-facing" ministry, made up of Economic Development, Science and Innovation, Building and Housing and Labour.
The new super-ministry will be the Ministry of Business, Innovation and Employment and the man in charge will be Steven Joyce.
After a parliamentary career of barely 40 months, Joyce puts one in mind of Pooh-Bah, the character in Gilbert and Sullivan's comic opera The Mikado whose long list of titles included "Lord High Everything Else".
It's little wonder that John Key puts such faith in Joyce: he ran the campaign that got National into power and has since shown himself to be an effective manager and an unflappable communicator. But the new job will certainly be a test of his skills.
It goes without saying that the country has to cut its coat according to a somewhat shrunken cloth. We are in no immediate danger but we are far from immune to the fate of the PIGS economies of southern Europe.
The plain fact is we have to reduce Government debt and Government spending and that is going to call for some unpalatable medicine. It certainly means ensuring that the delivery of public services is done as efficiently as possible. What's important to remember is that it will call for more than simply cutting staff on the frontline or in the back office.
Joyce himself has been cagey about job losses - indeed, it's a term he has not uttered: preferring like his leader to deal in euphemism, he uses the term "efficiencies" - because he says if he mentions a number, it will become a benchmark.
That's a reasonable comment, but vagueness won't remain acceptable forever. The Cabinet expects a "due diligence" report on the plan next month which, we are told, will provide detailed advice on how the merger will be managed. But it is to be hoped that it will also provide a sensible projection of cost savings, hand-in-hand with an idea of what changes there will be to service delivery.
Inevitable disruptions will occur as the new arrangements bed in after such a short lead time. But it also seems improbable that our public service can become leaner and meaner without some drop in output. The entire sector has been through more than a generation of re-organisation and pruning, all with the intention of getting more bang out of each taxpayer buck. There's no harm in that, but Joyce and his minions have their work cut out to convince us there is more fat to be cut.
Making ministries more "business-facing" is a nice-sounding phrase which, tellingly, chimes with much of the new Labour rhetoric enunciated by party leader David Shearer this week in his first big public speech outside the House. Much of what he said would not have sounded out of place in Key's speech. If ever there was a time for dropping political disagreements in favour of a bilateral approach to some of our more besetting ills, this is surely it.
In the meanwhile, Key has drawn up a curriculum for the next two years against which he will be measured: reduced welfare dependency; increased Maori and Pacific participation in early childhood education; increased immunisation rates; better school results; reductions in offending and re-offending. These are lofty aims, and whether he has managed them will be easily quantified in 2014. He may be assured that everyone is watching.