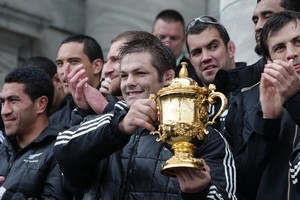 It hasn't been mentioned much yet, but there is a less obvious reason we should be thankful the All Blacks won the Rugby World Cup last weekend.
The victory will stop one of the most popular summer pastimes of bored sports writers with too much time on their hands - promoting their pet sports in the race for glory at our annual Halberg Awards.
The awards recognise sporting excellence and it is interesting to note how many times our national sport (that's rugby) has won the major gong in the past couple of decades. Any idea? Rugby has not taken the supreme award since 1987, the only other time we have won the world title.
Tri-Nations, Grand Slams and other heady achievements have been bypassed by a series of world champions in sports like rowing, cycling and athletics.
Around Christmas each year, the Halberg Trust names a list of finalists and the pontificating begins. Is netball a true world sport? Are the Warriors a New Zealand team and where does club sport rate against international play? Does an over-achieving national team that doesn't win (read here the All Whites) deserve kudos ahead of a winner?
News organisations hand over prime space to their "experts" who have little else to do around then. They promote their favourites and provoke the readers or listeners. Thankfully, we will be spared the navel-gazing this summer. The All Blacks are world champs; it is our national sport; and a team in this country has never responded to as much pressure as the Class of 2011.
The All Blacks will win the top gong and it is entirely deserved, despite the Warriors' charge to the NRL final and another world title to Valerie Adams.
Anyone who says otherwise is winding you up.