4 Fern Ave, Epsom
SIZE:
Land 1113sq m, home 291sq m (approx).
PRICE INDICATION:
Upwards of CV $2 million. Auction October 31.
INSPECT:
Sat/Sun 1.30-2.15pm.
SCHOOL ZONES:
Royal Oak Primary, Auckland Normal Intermediate, Auckland Grammar, Epsom Girls' Grammar.
CONTACT:
Jude Finch, Bayleys, ph 021 659 688.
FEATURES:
Large freehold family home in Fern Ave shares boundary with Cornwall Park. This exclusive enclave is home to nine properties on 1000sq m and larger sections. *1 car garage, 1 car port and 2 off-street parks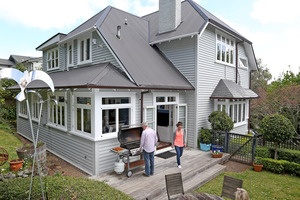 Recognising the hidden potential of this large but, at the time, dowdy weatherboard Epsom house, Kate had to persuade husband Tim and her children that it was the right place for them.
Kate's family took some convincing that the 1920s house next to Cornwall Park could be prettied up when they first saw it in 2001. "The children cried. I can't tell you how it dire it was."
Although TLC was needed, the rooms ran in a coherent order and were a decent size. "We didn't have to knock down walls or rearrange rooms, only having to pretty it up. The only rebuild we have done is extending the family room," says Kate.
The house also sits in the double-Grammar zone and is close to St Cuthbert's, where Kate's girls spent their secondary years.
With a cosmetic makeover required, Kate called on interior designer Neil McLachlan to help to improve the two-storey transitional bungalow.
"Our initial brief to Neil was to make it livable in a cost-effective way, with the extension mirroring the rest of the house," says Kate.
"We didn't need an architect," adds Tim, "it was more to do with design."
Peeling wallpaper was removed and cork tiles pried from the floors exposed beautiful jarrah timber. The roof and guttering were replaced and drainage was redone.
A revamped kitchen hosts a new granite benchtop and cabinetry, but Kate and Tim did retain the commercial-type Viking oven. "It's like an oven BMW and would cost about $10,000 new," says Tim.
Another find was the beautiful tiling on the TV room's fireplace surround when they stripped off its paint.
The family room was extended by 1m, with French doors added to the outdoors and a glass-panelled door between the family room and formal lounge to improve the flow and bring in more natural light. Replica period lights look great against the Arts-and-Crafts beamed ceilings, and colour is used boldly throughout.
Another big drawcard was the number of bedrooms - five and all upstairs. With three children when they bought in 2001, the arrival of Jamie in 2005 meant all bedrooms were in use.
Living next to Cornwall Park, with a gate entrance through the fence, has been a great experience, with the children enjoying the great outdoors. Their 1113sq m has a lawn with border hedging, clusters of erigeron daisies, citrus trees and a mature pear tree, home to an impressive hut. Kate and Tim had planned to put a pool in beside the house but now that will be someone else's call.
From the street entrance, framed by copper beech, magnolia, oak, punga and ferns, the home has the entry foyer as you come in, with TV room and formal dining on the right, and formal lounge on the left. The hallway leads to the family room with kitchen, and to the right is a study, laundry and toilet, added during the makeover. A sweeping wooden stairway leads up to the children's bedrooms and bathroom, plus the master bedroom with en suite.
The family has loved living in Fern Ave, one of only nine properties in the enclave off Golf Rd. Kate and Tim are selling because their two eldest children are living in France and the United States, with daughter Julia next to depart for England, leaving only 7-year-old Jamie at home. With Kate's nest emptying out, she feels it's time to throw herself into another do-up project, but in a home with fewer bedrooms.