39 Pupeke Rd, Takapuna.
SIZE:
Land 1093sq m, house 370sq m.
PRICE INDICATION:
Interest expected around $2 million-plus. Auction August 5 on site at 2pm (unless sold prior).
SCHOOL ZONES:
Takapuna Primary, Takapuna Normal Intermediate, Westlake Girls' High, Westlake Boys' High, Carmel and Rosmini colleges.
CONTACT:
Greg Ward, Premium, ph 021 651 555
FEATURES:
Spacious, modern, three-level home on tranquil, private section with lake views in good school zones and close to local shops, beaches, Pupuke Tennis Club and motorway access. Plenty of off-street parking.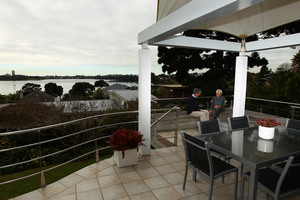 Sitting smack bang in the middle of a flight path is not usually a strong real estate selling point.
But for 13 years the owners of this luxurious home near the shores of Lake Pupuke have been more than happy to watch kereru and tui fly between the majestic native trees that surround their secluded and peaceful property.
North Shore veterans John and Anne moved here in late 1999 when their three children were teenagers after they'd lived for several years in Campbells Bay.
Striking lake views from the sun-drenched, north-facing property were an obvious drawcard as well as its proximity to shops and beaches in Takapuna and Milford, the Bruce Mason Centre and the motorway.
"Being north-facing, the house is brilliantly warm. It's also been so handy to everything, including our work, and it's been an easy property to maintain," says Anne.
The three-level, 370sq m home was designed by local architect Paul Francis and built to exacting specifications for its original owner - an engineer - in 1993.
The house features soaring floor-to-ceiling windows with UV screening, top-quality aluminium joinery, varied stud heights and striking angles - all designed to maximise the lake views and link the interior of the house with its surrounding garden including two towering puriri that are more than 90 years old.
All of the bedrooms and main living spaces look directly across the lake to Sylvan Park.
The birdlife and activities on the lake itself, including windsurfing, yachting and rowing are a constant source of interest.
The house, at the end of a long right-of-way, was designed to have versatile living spaces which can be closed off or opened up depending on the number of house guests staying or how many people are being entertained.
"We are both from large families and this house has been the hub of all our family gatherings and occasions.
"We've had grandchildren staying over and family members staying for up to three months at a time," says Anne.
All of the main formal and informal living spaces, including a central kitchen, are on the middle level of the house where large cavity sliders can close off otherwise semi-open spaces. One of the house's many clever features is "moveable" joinery that can be unclipped to provide better flow between the family room and large deck which runs along the front of the house.
This level also includes a separate dining room, toilet and small office or nook.
The master bedroom, generous walk-in wardrobe and en suite occupy the whole of the top level and the lower level includes three large bedrooms - one big enough to be a third lounge - a large bathroom, separate toilet, utility room, laundry and double internal-access garage.
Off the garage is the home's "central nervous system" - a small room that houses all of its electronics including an irrigation system, internal telephone exchange and central vacuuming system.
Other features include gas-powered, hot-water underfloor heating, laundry and rubbish chutes and excellent storage, including large wardrobes in the three downstairs bedrooms which all open out to the garden.
John and Anne say they are loath to leave this home which has been such an excellent base for all of their family.
But now that all of their children are in their 30s, it's time to look for somewhere smaller and enjoy spending more time at their holiday home north of Auckland.