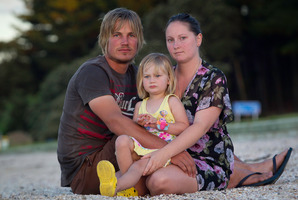 When Sara Smith's baby Bella died at birth, doctors asked whether she'd like a post mortem done.
But when Aucklander Smith realised that would mean Bella's body being sent to Wellington, she and husband Lance said no.
"We had already lost her, we thought we don't want to lose those couple of days with her. It's a time that you're never going to get back," Smith said.
Smith's uterus had ruptured and the cause of Bella's death wasn't really a mystery, but their decision not to have an autopsy stemmed from the fact that a perinatal pathologist was only available in Wellington.
Bella died at Middlemore Hospital. The perinatal pathologist responsible for that hospital is Wellington-based Dr Jane Zuccollo.
Each year she does 200-250 autopsies for the greater Wellington region, top of the South Island, National Women's and Middlemore.
She often travelled to Auckland to do her work, but said all parents offered autopsies were asked to consent to their child's body being sent to Wellington if need be.
"I appreciate that that can be a slightly muddled issue but if they object, generally the midwife or doctor will ring me and I'll go up there," she said.
New Zealand has three perinatal pathologists, but that number is about to be boosted to five, making it a "national service".
"We've got two more pathologists starting on June 1, employed in Auckland. It's fantastic," said Dr Zuccollo.
The other two existing pathologists were based on the North Shore and Christchurch.
In cases of suspicious death, the coroner can order an autopsy and the family have no say in the matter.