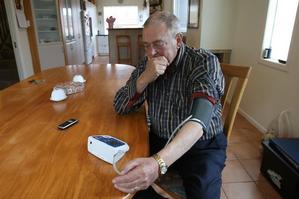 Fergus Freeman used to be forced to spend time in hospital when his chronic heart problems flared up.
But thanks to a New Zealand first in mobile phone technology, the former Otahuhu police inspector can send doctors and nurses details of his blood pressure and weight for doctors to inspect every day - without leaving his home.
Mr Freeman, 66, is one of 20 heart failure patients involved in a three-month trial that began last month and is aimed at freeing up time for health professionals - and keeping patients out of hospital.
If the trial proves successful, the Auckland District Health Board (ADHB ) is hoping the technology will be used in future to help patients with other conditions including diabetes, respiratory disease, hypertension and asthma.
Mr Freeman, who has had three heart attacks and one cardiac arrest that saw him revived with a defibrillator, said before he had the trial technology (a cellphone, blood pressure checker and electronic scales) he would end up in hospital when he developed health complications.
"It would pretty much mean that I was confined to hospital which was a pain," he said.
"[It's a] great place to be when you're very sick but not a good place when you're feeling quite reasonable."
He said the gear was easy to use and meant any problems such as fluctuations in weight that could make him unwell over time, were detected quickly.
And because the data was sent using a mobile phone, medics could contact him immediately if he forgot to send data, or if his details showed he needed further attention.
The technology uses a Bluetooth system which, at the push of a button, detects his blood pressure and weight readings from the electronic scales and blood pressure monitor before transmitting them to hospital staff.
It was developed over the past year in a partnership with information communications technology companies Gen-i and Alcatel-Lucent.
Mr Freeman, who helps run a student exchange business with his wife, said he travelled a lot and the easily transportable technology meant he could continue to monitor his health while away.
Medics also benefit because they can access the data on mobile devices such as laptops, which means they aren't restricted to their offices.
ADHB chief funding and planning manager officer Dr Denis Jury said the technology aimed to enhance patients' quality of life and reduce hospital running costs.
"The pilot has been developed to help out the health sector investigate ways of responding to the marked increase in the number of New Zealanders with long-term chronic conditions. It is hoped the technology will, in time, also support the growing number of patients with other long-term illnesses such as diabetes, respiratory disease, hypertension and asthma."
Similar technology has been used overseas in the United States, Canada and Europe.
The trial's results are expected early next year.