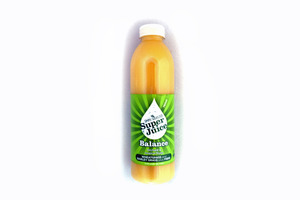 Simply Squeezed Super Juice - Balance - Orchard and tropical fruits, wheatgrass and barley grass plus fibre, $3.79 for 750ml.
I have my 15-year-old daughter to thank for bringing this product to my attention. It would seem a lot of her friends have absorbed the message that the sugar in soft drinks such as Coke is bad for you so now they are drinking this very healthy-looking super juice.
"But look at the label," said my daughter. "There's still heaps of sugar in it."
That's my girl. In fact, there is more sugar in this drink per 250ml than there is in Coke.
This kind of "healthy" product makes me quite angry. The packaging tells us that: "It's a hard road balancing life's demands: work, family, sport, being healthy, walking the dog, the in-laws ... Stop stressing and drink some of this good stuff."
Thanks for that patronising marketing language and thanks for the big arrow pointing to "the good stuff!" which is barley grass, wheat grass, fibre and vitamin C listed just below the huge amount of sugar.
We'll see later just how much of the "good stuff" is actually in here.
Ingredients
• Apple juice (45.4 per cent) - So nearly half of this bottle is full of apple juice which is great. However, apple juice is naturally quite high in sugar at 9.5g per 100 ml.
Reconstituted orange juice (37 per cent) - The next largest ingredient is orange juice which is high in vitamin C. This juice is reconstituted which means it has had most of the water removed from it to form a concentrate. This is usually done to make it easier to transport. When it arrives it is then reconstituted by adding water. I would hazard a guess that this reconstituted orange juice has come from offshore as the label clearly states "Bottled in New Zealand from ingredients sourced around the world and in New Zealand".
• Banana puree (10 per cent) - This is mashed up banana and would add some texture to this juice.
• Reconstituted pineapple juice (4.5 per cent) - Again this juice has been reconstituted (see above) and is probably from overseas. At 4.5per cent there is only about 11 ml per 250ml serving.
• Mango puree (1.5 per cent) - This is mashed-up mango - about 3.75ml in one 250ml serving. You would have to presume that this is in here for flavour only at such a small amount.
• Passionfruit puree (1 per cent) - There is only about 2.5ml - half a teaspoon of passionfruit puree in each 250ml serving. As with the mango, possibly in here for flavour.
• Botanical extracts [barley grass (0.5 per cent), wheat grass (0.5 per cent)] - Barley and wheat grass have been heralded for some time as must-have additions to your fruit juice. There is very little nutritional difference between the two grasses and they are believed to reduce inflammation and pain, act as antioxidants and help the body attack cancer cells. But there are no studies to support these claims, except one small study which suggests they may help with bowel problems.
The dosage recommended by websites selling these supplements is 3g of the powder per day. You will get 1.25g of each per 250ml serving.
• Inulin - This is what I call "faux fibre" because it is added into processed foods so they can claim fibre content, in this case 3g per 250ml serving. Inulin is a substance which occurs naturally in root vegetables.
• Glucose - And here we have the first of the "sugar" ingredients which allows the producer not to list "sugar" on the label. Glucose is a simple sugar commonly produced from corn. The total sugar content of this product is 27.5g, or about 6.8 teaspoons of sugar, per 250ml serving (a third of this bottle). When I reviewed Coke for this column it had 27g of sugar per 250ml serving.
• Fructose - This is a sugar found in fruit.
• Sucrose - This is essentially a double sugar combining glucose with fructose.
• Vitamin C - This been added in here to produce 75mg per 250ml serving.
• Passionfruit flavour - No mention of natural flavouring so this will be artificial.
• Preservative (202) - This is potassium sorbate which has no known adverse health effects.

My recommendations
This really appalls me that a fruit drink marketed as a "super juice" has more sugar in it than Coke. And what is more appalling is that my daughter tells me her friends drink a whole bottle of this in one sitting which is 750ml, or three servings. So they are getting not the 6.8 teaspoons of sugar per serving but a massive 20.4 teaspoons of sugar per bottle.
Educate your child to look at the sugar content in their drinks and divide by four to get the amount of teaspoons they are consuming. If they can't do it, then do it for them.
I find it really helps if you point out to a child that a bottle like this contains 20 teaspoons of sugar.
More and more studies are starting to question the role of sugar being the main contributor to obesity rather than fat.
A recent study which examined the sugar availability and the rates of diabetes in 175 countries over the past decade found that in countries where people had greater access to sugar, there were higher levels of diabetes.
Rates of diabetes went up by about 1.1 per cent for every 150 kcal of sugar available for each person each day - about the amount in a can of Coke.
Encourage your child to drink water when they are thirsty and if they want to drink fruit juice, dilute it with water.
Also encourage them not to buy large bottles of drink and opt for smaller, serving size (250ml) bottles.
This product also comes in a smaller 350ml size and even Coke now puts out smaller sizes.

Highlights
• Has more sugar per serve than Coke.
• Contains wheatgrass and barley grass in very small amounts.
• This bottle (750ml) contains a huge 20.4 teaspoons of sugar.

Do you have a food product you would like us to feature?
Email wendylwantstoknow@gmail.com with suggestions. Unfortunately Wendyl cannot correspond with readers.