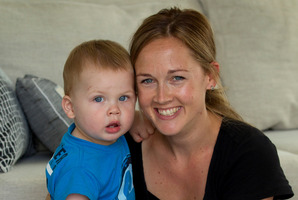 Kirstie Andrews' introduction to breastfeeding her newborn son Charlie was marred by a tiny deformity under his tongue - until he had an operation that cost more than $800.
The Auckland mother suffered bleeding and severe pain in her nipples, and three infections requiring antibiotics - all because of tongue tie, a condition which affects up to 11 per cent of infants.
"For five weeks I was struggling. It was getting worse and worse and worse."
Charlie's milk intake was not affected by his inability to latch on properly and he put on "heaps of weight", although his feeds went on for 60 to 90 minutes at a time because they were so inefficient.
After the problem was diagnosed, the too-tight tissue, called the tongue frenulum, was surgically snipped, but that didn't help and Charlie, now aged 1, was taken for laser treatment at the Laser LifeCare Institute, a dental clinic in Auckland.
The tongue tie was released, as was the frenulum under the centre of his upper lip which was also too tight, and Charlie had a breast-feed within minutes.
"I felt instantly better," said Mrs Andrews. "It was still painful because I had so much damage there. Within a week my nipples started to heal."
Parents are being urged to shop around if their baby needs tongue tie treatment for which the fees can range from $880 at Laser LifeCare, to typically $150 to $200 - and just $25 for enrolled patients at Turuki Health Care in Mangere.
Mrs Andrews said the Laser LifeCare fee was money well spent.
"It's really hard being a mum and not being able to feed your baby because you feel like you're not doing your job properly. There's a lot of pressure to breast feed and you really want to do your best to breast feed and you still feel like a failure even though it's beyond your control."
Laser LifeCare owner Dr Hisham Abdalla, a dentist, said his fee was not excessive. Treating a tongue tie in hospital, under general anaesthetic, cost a great deal more.
Auckland GP Dr Yvonne LeFort said one study had found that 40 per cent of mothers with breast-feeding problems had a baby with a tongue tie. She charges around $150 to release a straightforward tongue tie with a snip using surgical scissors, done with anaesthetic gel and without stitches.
Hamilton oral and maxillofacial surgeon Steven Evans charges $180 for the laser treatment.
The city's Old Villa Dental clinic charges $198 for water-laser treatment of tongue tie and reports having treated many Aucklanders.

What is tongue tie?
The problem: Membrane connecting the tongue to the floor of the mouth too tight or attached too close to the tongue tip.
The effect: Can cause difficulties with breastfeeding, speech and eating solid food.
The incidence: Three to 11 per cent of infants. Fewer than half of cases require treatment.
The treatment: Membrane cut, lasered or cauterised.