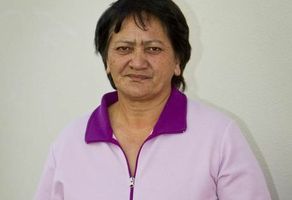 A 5-year-old boy battling for his life after an alleged hit and run in Flaxmere has taken "a turn for the worse" in Starship children's hospital.
Little Kayzah-Shae Wairama's family are flocking to his hospital bedside and urging speeding motorists to slow down in residential areas and watch out for children.
The alleged 27-year-old driver involved in Tuesday's accident walked into Flaxmere police station yesterday and handed himself into police.
The boy's grandmother, Lovey Winitana Orlowski, was delighted someone had turned themselves in.
"We are all just so relieved, that is what we wanted."
Kayzah-Shae was last night in a critical condition at Auckland's Starship, where he has been since Tuesday night. His father Raymond Wairama is with him.
The Flaxmere Primary pupil was put in an induced coma as medical staff attempted to alleviate pressure and swelling around his brain.
Ms Winitana Orlowski said the entire family, including some from Australia, were on their way to Auckland after the young boy "took a turn for the worse" yesterday.
"He will be in the induced coma for the next three to four days. He is a little fighter, we know that he will pull through, he just wants to run around and climb up things, he's not afraid of fear."
Ms Winitana Orlowski said the incident had taken a toll on the family, causing sleepless nights.
She said the care given to Kayzah-Shae by neighbours immediately after he was knocked down helped save his life.
"We were just sitting around the fire and then his brother came in and yelled 'mum - Kayzah-Shae fell off his bike'.
"There was just blood everywhere, we were on the ground holding my moko, I was lying there holding his head and my clothes were covered in blood, there was blood all over the road.
"One man said he was just walking home from work and saw it all happen, he was a great help, he helped save my moko and I think he was one of the main witnesses, he saw the car and he saw it happen," she said. "It was a terrible scene."
She and the boy's mother Melanie Shillingford, a mother of seven who had only recently returned from hospital after giving birth, wanted to meet and thank the good Samaritan.
Describing it as a freak accident, Ms Winitana Orlowski, a Child Youth and Family worker, said drivers should be aware that sometimes kids just run onto the road.
"It happened so fast, kids just get on their bike and go out and play, they don't think about these things. My daughter always locks the gate, but we couldn't close the gate that night because there was a van in the driveway."
She said Kingsley Rd was notorious for speeding motorists and urged people to slow down in family neighbourhoods.
"I hope the message gets out to other drivers to watch out for kids on footpaths and be aware and on the look out for these children, always be vigilant, take your time and look."
A man will appear in Hastings District Court on Monday charged with failing to stop and ascertain if there were injuries at a crash scene. Further charges may be laid as police continue their investigations.
For more articles from this region, go to Hawkes Bay Today