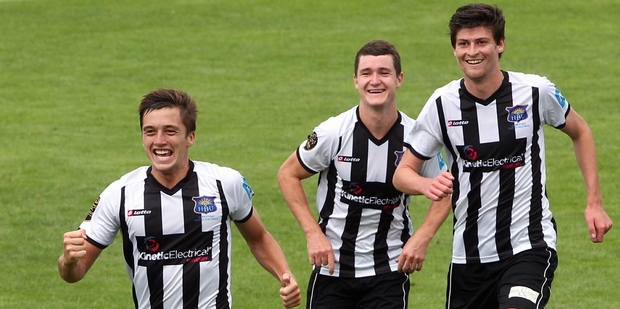 In the contradictory sporting world of mountains and valleys blinking is not recommended, especially after someone pulls the rug from under one's feet.
Some will rightly argue the highs and lows are all that matter because everything esle in the middle is just in between.
It'll pay for Bluewater Napier City Rovers to take heed as they yearn for some serious stimulation in their Lotto Central League football match today in Wellington after a demoralising 2-0 defeat to Central United in their ASB Chatham Cup semifinal clash in Auckland last Sunday.
"It's disappointing to lose last weekend but we're motivating players to also remember what we want to achieve in getting second place in the league," Rovers player/coach Bill Robertson says before they kick off at 1.30pm at Maidstone Park, Upper Hutt, against Wairarapa United.
Robertson is happy to travel to Wellington, considering the grounds at Wairarapa haven't always been in good nick.
"It's an artificial pitch so there won't be any excuses from us," he says, adding travelling in the league is a prerequisite and something his troops should have adapted to.
The Blues will be without the services of teenage striker Angus Kilkolly, who is serving a five-card suspension, while English import midfielder Ryan Tinsley has preserved his status on four following the cup encounter.
Holding midfielder Chris Greatholder is unavailable because of work commitments.
Robertson has recalled Daniel Ball and Andrija Ilic into his mix.
The Rovers still have lots to play for, boasting an unblemished record at Park Island, Napier, with two games pending - 2014 champions Miramar Rangers the following Sunday and a date yet to be confirmed for the catch-up game against Western Suburbs.
Conversely, it's the last game for the Bob Sova-coached Wairarapa who have had a resurgence since the former YoungHeart Manawatu coach took over the reins when Phil Keinzley went to watch the Fifa World Cup in Brazil.
After a rash of don't-argue victories over lowly sides the Adam Cowan-captained hosts have a spring in their step and fancy their chances of finishing in at least third place if they beat the Rovers.
More to the point, golden boot leader Hamish Watson is back at the coalface after fellow former Kinetic Electrical Hawke's Bay United striker Seule Soromon collected his second yellow card in the 2-1 victory over Wellington Olympic last weekend.
"They are a strong side and can be difficult to beat although we beat them comfortably at home," says Robertson after the Rovers thumped their archrivals 3-0 at the Bluewater Stadium on May 18.
That day, under Keinzley, Wairarapa were in disarray with questionable substitutions and a once formidable team devoid of structure and cohesiveness.
"We will take the same attitude [of beating Wairarapa in Napier] to Maidstone Park," reveals Robertson.
The centreback also took the opportunity to clarify cup semifinal footage on YouTube and Twitter absolved him of blame in conceding a controversial penalty kick to Central United for their first goal.
However, the footage also shows the second goal wasn't from an offside position although there is some suggestion the Central player who passed the ball to scorer James Hoyt had extended his hand in controlling the ball.
All that, of course, is water under the bridge in today's context.
Bay-born Wairarapa midfielder Tom Biss says they have picked up some form with a 6-0 thumping of Tawa just before the win over the Greeks.
"We've had a bit of a run so if we beat Napier maybe we'll have a chance of claiming third place," says Biss, hastening to add that if someone had offered his teammates third place at the start of winter they would have gleefully accepted it.
Watson's return, he says, will put a spring in their steps today because if second-placed Western Suburbs slump today to Petone then they could claim the second rung on the ladder.
"Hamish is a big player and is still a member of the the Wellington Phoenix squad.
"He scores in every game and is great, especially for me because I play behind him.
"He's big and strong and when we play a ball to him, 80 to 90 per cent of times he'll give it back and not lose it."
Making Watson's feat even more remarkable is he was not part of the Wairarapa United squad at the start of a league programme which has seen them win nine of their 17 matches and draw another three.
That is a similar record to the Rovers who have racked up nine wins and two draws from 15 matches.
Biss puts the result from their last match against the visitors down to a lack of formation and structure but assures fans Sova has added impetus to their game.
Playing on an artificial pitch also does them favours.
"We have good fields at Masterton but Maidstone Park is artificial so we like to get the ball down so there's no bumps and mud to worry about.
"We like to pass the ball around."
Biss had a stellar season in the ASB Premiership last summer for the Bay United franchise under former coach Greatholder.
The former Phoenix squad member, who was released before last summer, is in negotiations with Bay United coach Brett Angell.
"We've had a couple of catch-ups with Brett and Leon [Birnie] so I should know in a couple of weeks who I'm playing for," says Biss, who has had approaches from two other premiership franchises but isn't keen to name them.
While disappointed with his axing from the Nix, he says "life goes on".
"[Ernie] Merrick pretty much told me he's not too keen on me so I went to Bay United," he says, feeling he had had a fine spell with the Bay boys last summer.
Biss says the much-publicised saga surrounding Greatholder's release had been thrashed and players had moved on.
He has designs on making the All Whites Olympic squad.
MATCH DETAILS
WHO: Wairarapa United v Bluewater Napier City Rovers.
WHERE: Maidstone Park, Upper Hutt.
WHEN: Today, 1.30pm kick off.
REFEREE: John Rowbury.
AR1/AR2: Nigel Piper/Robert Fleetham.
TEAMS
Wairarapa United: Matt Borren (GK), 3 Carl Shailer, 4 Chris Cox, 5 Nathan Cooksley, 6 Thomas Hemi, 7 Josh Margetts, 8 Waisake Sabutu, 10 Omar Gaurdiola, 12 Aaron Spierling , 13 Tom Biss, 14 Mark Hemi, 16 Hamish Watson, 19 Adam Cowan (c), Richard Gillespie (RGK).
Coach: Bob Sova.
Manager: Aaron Spierling.
Napier City Rovers: Jonty Underhill (GK), 2 Josh Anstis, 3 Dan Ball, 4 Bayley Chadderton, 5 Bill Robertson, 6 Miles John, 7 Matt Hastings, 8 Stu Wilson, 10 Andrija Ilic, 12 Oli Chapman, 14 Josh Stevenson, 15 Ryan Tinsley, 16 Danny Wilson (c), 17 Fergus Neil, 19 Phil Dol, Kyle Baxter (RGK).
Coach: Bill Robertson.
Manager: Malcolm Wilson.
OTHER MATCHES TODAY
Petone FC v Western Suburbs: 1pm Petone Memorial Park.
Tawa AFC v Miramar Rangers: 1.30pm, Endeavour Park No 1.
Palmerston North Marist v Upper Hutt City: 1.30pm, Memorial Park, Palmerston North.
Wellington Olympic v Lower Hutt City AFC: 1.30pm, Wakefield Park No 2.
GOLDEN BOOT

16: Hamish Watson (Wairarapa).
14: Paul Whitmarsh (Petone).
12: Henry Fa'arodo (Miramar), Samuel Mason-Smith (Miramar).
11: Jerram Tuck (PN Marist) .
9: Noah Billingsley (Western Suburbs), Sam Blackburn (Olympic), Ryan Tinsley (Rovers).
8: Elliot Collier (Suburbs), Jimmy Haidakis (Olympic).
STANDINGS
P W D L F A GD Pts
Miramar 16 14 0 2 53 24 29 42
Suburbs 16 10 2 4 45 21 24 32
Wairarapa 17 9 3 5 43 34 9 30
Rovers 15 9 2 4 39 26 13 29
Olympic 17 9 2 6 42 33 9 29
Petone FC 17 7 4 6 45 36 9 25
PNMarist 17 7 1 9 34 31 3 22
L/Hutt 17 3 4 10 23 32 -9 13
Tawa 17 3 0 14 18 62 -44 9
U/Hutt 17 2 2 13 28 71 -438